Community Holds Candlelight "Visual" in Support of Officers

Dec 12, 2006 09:33 PM
News 4

(Buffalo, NY, December 12, 2006) - - The community gathered in support of the wounded officers Tuesday night at the scene of the shooting. News 4's Michele McClintick has more on a special event they're calling a candlelight "visual."

One week after the shooting on West Chippewa Street, a community gathered at the very same place to show two Buffalo police officers support and to pray for their recoveries.

Officers Carl Andolina and Patricia Parete were shot while working near the Chippewa district.

While Andolina recovers at home, Patricia Parete remains hospitalized at ECMC.

21-year-old Steven Schroeder wants to make sure the two officers know a community is supporting them.

Schroeder said, "Our main concern tonight is to show the police that we support them, and we have their back, and we love the job that they do."

Although he dosen't know the two officers personally, he's worked in the Chippewa district long enough to know many B District police officers, and appreciates the difficult and often dangerous work they do each and every day.

Schroeder said, "We get to know them on a personal level, more than just a professional level."

Tuesday night's "visual", as they're calling it, allowed fellow officers and the community to light a candle, say a prayer, and just show support to those who wear the uniform and badge each and every day.

Schroeder said, "We will have index cards so that people can write messages and prayers to the officers, and we're going to make sure that their families get them."

That uniquely named candlelight "visual" for both officers was from 9:00 until 11:00 Tuesday night at the scene of the shooting on West Chippewa between Elmwood and Georgia.
Chippewa Shooting Going to Grand Jury

Posted by: Mike Igoe, Reporter
Created: 12/12/2006 4:21:10 PM
Updated: 12/12/2006 6:18:02 PM

A Buffalo teenager accused of shooting two Buffalo police officers was back in court Tuesday afternoon.

Eighteen year old Varner Harris, who allegedly shot officers Carl Andolina and Patricia Parete on the night of December 5th, faced a felony hearing Tuesday.

Harris waived his right to the hearing so the case now heads to a grand jury. Harris will remain in jail for up to 45 days. During that time, the grand jury either has to issue an indictment or a plea deal can be worked out.

The courtroom of Judge David Manz was packed and the majority of the people were police officers.

Not only were the Buffalo police represented, but New York State troopers were on hand as well as representatives from a few other police departments.

Buffalo police Commissioner H. McCarthy Gipson was impressed by the showing of support: "Today's effort in showing of strength on the part of our law enforcement shows that we at the beginning point of entering people into the process are united and together."

Lieutenant Joe Panus of the Buffalo police was also impressed by the turnout: "Just a very good feeling. I always knew that we stood behind each other and today just proved it. We were there for our two officers."

Mike Igoe: "Were you surprised how many officers did show up today?" Panus: "I wasn't surprised. But it made me feel good to see it. I wasn't surprised-not at all."

Another sign of support is scheduled for tonight. There will be a candlelight vigil from 9-11pm at the corner of Elmwood and Chippewa.
New Information on Wounded Officer's Condition

Posted by: Robyn Young, WGRZ 2News Reporter
Posted by: Sally Durwald, WGRZ 2News Producer
Created: 12/8/2006 10:33:32 AM
Updated: 12/8/2006 10:58:37 AM
WGRZ 2News


Buffalo Police officer Patricia Parete remains in critical condition at E.C.M.C as of Friday morning. Tuesday night she was shot in the jaw while responding to a fight call on Chippewa Street.

A close family friend who has spent a lot of time with Parete in the intensive care unit tells Channel 2 News the bullet is still in Parete's neck, and that doctors are not yet able to say if she will be paralyzed, or even exactly how much damage the bullet caused to the officer's spine.

Parete underwent an estimated 6 hour surgery Wednesday and faces more surgery on her jaw.
Several sources say she is able to communicate by blinking and moving her head and is responding to questions.

Her family issued this statement on Thursday.

"The family and friends of Buffalo Police Officer Patty Parete would like to thank all of her fellow officers and friends for their overwhelming acts of kindness and generosity during this difficult time. Patty is, and continues to be, appreciative of the positive energy and prayers that have been bestowed upon her, her friends, and her family."

-Parete Family Statement

"Obviously her family is still present and there are officers visiting on a constant basis," said ECMC spokesperson Tom Quatroche. "Some are permitted to see her and others are waiting in vigil."

Parete is the first female Buffalo police officer shot in the line of duty.

Meanwhile her partner, Officer Carl Andolina, who was also shot, was released from E.C.M.C. Thursday.


Officer Carl Andolina

Authorities said he was able to walk out of the hospital, just two days after being shot in the line of duty.

Officer Andolina was shot at close range Tuesday night while apprehending a suspect with his partner, Officer Parete.

"He was doing better, in somewhat better spirits, looking forward to a chance to go home and spend time with the family," said Buffalo Police Commissioner H. McCarthy Gipson, just after meeting with Officer Andolina before he was released.

Officer Andolina was shot once in the arm, and a second time in the chin, Gipson said. The bullet that entered through Officer Andolina's chin remains lodged in his neck muscle. Doctors will decide later if it has to be removed.

Commissioner Gipson said that Officer Andolina, who wrestled the suspect to the ground even after he had been shot twice, is still upset that he couldn't do more to protect his partner. He said that Andolina visited with Parete before he left the hospital.

Police said the suspect, 18 year old Varner Harris, admitted to the shootings, and said he was upset and angry about personal problems. He faces charges of first degree attempted murder and criminal possession of a weapon.

Both officers joined the force in 2001. For several years, Andolina was laid off and worked for the Erie County Sheriff's Office. In 2004 while working bike patrol, he narrowly escaped serious injury when he was hit by a drunk driver outside of Ralph Wilson Stadium after a Buffalo Bills game.

WGRZ
Wounded officer may be paralyzed
SPINE SEVERED FROM SHOT FIRED BY TEEN

Injured partner who tackled suspect is in fair condition

By MAKI BECKER, VAN and ESSA THOMAS JAY REY
News Staff Reporters Buffalo News
12/7/2006
Officer Patricia A. Parete, clinging to life Wednesday night after her spine was severed by a bullet, is described by fellow cops as vibrant and "not one to walk away from a police call."

Patricia A. Parete - one of two Buffalo police officers shot Tuesday night - was fighting for her life late Wednesday, her spine severed by a bullet fired by a teenager who was on probation.

If Parete survives, she likely will be paralyzed from the neck down.

"If she lives, she's probably going to be a quadriplegic," said a fellow officer who spoke on condition of anonymity. "I'm just so angry right now. It's horrible."

Sources also told The Buffalo News that police believe Varner Harris Jr., 18, who police say confessed to the shootings, opened fire on Parete and her partner, Officer Carl E. Andolina, because he feared being sent to prison now that he is of legal age and no longer eligible for youthful offender status.

Officer Patricia A. Parete, clinging to life Wednesday night after her spine was severed by a bullet, is described by fellow cops as vibrant and "not one to walk away from a police call.
Parete, the first female Buffalo police officer shot in the line of duty, was listed in serious condition late Wednesday night, while Andolina was in fair condition. Both are in Erie County Medical Center.

Tuesday night, Parete and Andolina were riding together on a special detail downtown investigating a rash of car break-ins. At 9:01 p.m., they were dispatched to a Valero gas station on the corner of Chippewa Street and South Elmwood Avenue, where a fight had been reported.

The officers spotted Harris running from the scene and chased him in their cruiser.

They got out of their patrol car and ordered Harris to turn around and take his hands out of his pockets.

They didn't know until too late that Harris was carrying a gun.

Dennis C. Enser/Buffalo News
Erie County Medical Center trauma doctor Peter Ploch describes where Officer Carl E. Andolina was shot, as Police Commissioner H. McCarthy Gipson, left, and Mayor Byron W. Brown listen.
Harris "knew once the gun was found that he would go back to jail and finish his time and he wouldn't be a young offender anymore," a police source said. "He'd be going to the men's jail."

Harris began shooting at the two officers, nearly emptying the gun, as Andolina tackled him to the ground.

Neither officer discharged a weapon.

Parete was hit twice. Her bulletproof vest blocked a round aimed at her chest, but a second bullet pierced her face and ripped apart her spine.

As Andolina tackled Harris, he was hit three times - in the neck, arm and chest, protected by his vest.

"Andolina charged at him and took him to the ground," Police Commissioner H. McCarthy Gipson said at a morning news conference at ECMC. "He physically charged at an individual who was firing at him at point-blank range. He charged at a blazing gun."

At the news briefing, Mayor Byron W. Brown commended Andolina's "heroic actions."

Harris was arraigned Wednesday morning in City Court, where Judge David M. Manz entered a not-guilty plea on Harris' behalf on attempted murder and weapons charges.

Varner Harris Jr. was meeting the requirements of his probation following his conviction last year.
Manz ordered Harris to remain in jail without bail and said he will appoint a lawyer to represent him.

Law enforcement sources revealed Wednesday that Harris had been arrested Jan. 24, 2005 - when he was 17 - for attempting to rob a pizza deliveryman with two other youths, one of whom had a gun.

He spent nearly two months in the Erie County Holding Center before he was released on $5,000 bail.

His case came before the grand jury, and in May 2005, he was sentenced to five years' probation as a youthful offender.

Police believe Harris may have bought the gun used in Tuesday night's shootings off the street just a couple of days ago to protect himself from former gang members.

While Harris has a gang tattoo, he had "disassociated himself with the gang," a police source told The News. "But there was pressure to re-engage with the gang."

Harris' 15-year-old girlfriend said he told her he was in some sort of trouble and was carrying the revolver for protection.

"It's hard for me to believe he was involved," the girl said. "He's not violent. He didn't act violent." The News is withholding her name because of her age.

Family members, as well as probation officials and other people charged with looking after him, said Harris had been showing signs he was turning his life around.

He was enrolled in the day program at Hopevale School in Hamburg, a program for seventh- through 12th-graders who have run into trouble with the law or at their neighborhood schools.

His mother, Theresa Moore, produced a report card that showed his latest grades were in the 80s and 90s.

She said he had taken a liking to his home economics class and brought home pies he had baked.

He also was an aspiring rapper and had recently recorded a demo CD.

Harris, who is a week shy of his 19th birthday, came from a troubled family. Records show his father, Varner Harris Sr., was arrested in 1989 in a series of violent home invasion robberies of the elderly. He spent nearly three years in prison and another three years on parole.

Probation officials said Harris had been under "intensive supervision" following his conviction last year.

"We were keeping a close watch on him because of the nature of the crime," said George Alexander, Erie County probation commissioner.

Harris always was at home as required when curfew checks were made and was meeting with his probation officer as scheduled.

Gregory Brice, director of the Bissonette House, who had worked as a behavioral specialist at Hopevale, said Harris was a quiet loner who was respectful to authorities.

"The Varner I know is a quiet, almost humble, and respectful young man," Brice said.

"I was shocked when I read the paper and saw his name," he said. "I know when I deal with him as an authority figure, he was always respectful."

Moore said her son had been having behavioral problems earlier in the year and was so prone to angry outbursts that she took him to a doctor.

"He was acting up," Moore said. "Like when I asked him to do something, he would just spaz out. I wanted to know what the problem was."

The doctor prescribed Prozac, and Harris seemed to improve on the medication, she said. But he didn't like taking it and had recently stopped.

"If he was still taking [his medication], this probably wouldn't have happened," his distraught mother said.

"One side of me believes it," she said of the police shootings her son is accused of committing. "The other side doesn't."
News Staff Reporters Michael Beebe and Matt Gryta contributed to this report.
---
October Snow Storm 2006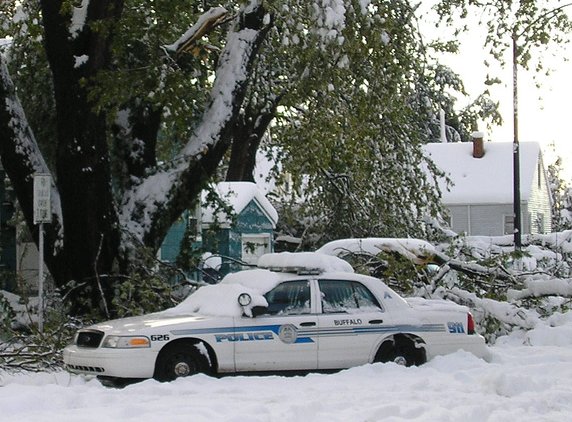 Photo by RyanJK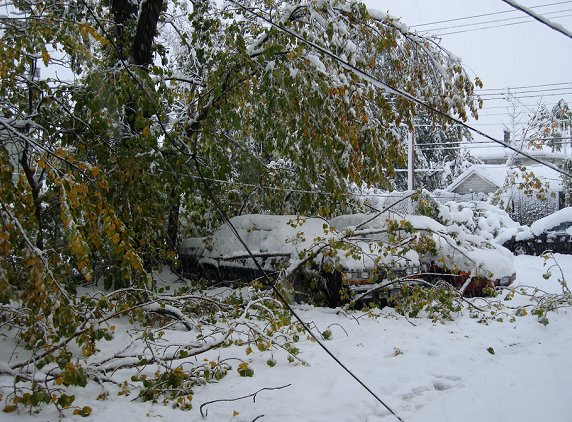 Photo by Raydizzle
---
Youth Charged After Shots Are Fired At Police

2 others arrested on city's East Side
The Buffalo News
By VANESSA THOMAS News Staff Reporter 10/11/2006


A 17-year-old youth has been charged with attempted murder after two shots were fired at two undercover narcotics detectives Monday night at Bailey and Minnesota avenues.

Jibreel F. Williams, of Greenfield Street, is accused of firing the shots that narrowly missed Detectives Edward Niemann and Timothy Mulhern. The plain-clothes detectives did not return fire, and no one was injured.

The shooting marks the second time in about a month that Buffalo police officers have dodged gunfire.

On Aug. 31, police said Basil S. Payne, 23, of East Amherst Street, fired a single shot at two officers in Central Park Plaza on East Amherst Street as he fled. Officers Corey Krug and David Acosta did not return fire and captured Payne after a foot chase.

"Obviously, they were in fear for their lives," Chief of Detectives Dennis J. Richards said of Niemann and Mulhern. "When shots are fired, there's a potential for anyone to be hurt, especially with officers being the target."

"This once again demonstrates the dangers of police work," he said. "The officers are just out there doing their jobs and trying to rid the streets of narcotics."

Police said the detectives, who were conducting a narcotics investigation, spotted a group of men at Bailey and Minnesota at about 10 p.m.

The detectives turned on the emergency flashing lights on their unmarked car and turned west onto Minnesota.

"Jibreel was among those group of males on the corner. As the car turned the corner onto Minnesota, Jibreel fired one shot," Richards said. "And as [the detectives] exited their unmarked vehicle, he fired a second shot."

The detectives chased the gunman, who, at times during the pursuit, pointed a silver handgun at them.

Two other men who had been in the group on the corner also fled. After a brief chase involving Northeast District officers called in as backup, Narcotics Lt. Thomas Lyon and Detective Sgt. Thomas Vivian arrested Williams and the other two.

Williams has been charged with two counts of attempted murder and one count each of criminal possession of a weapon and obstructing governmental administration. Police said they found a .22-caliber semiautomatic handgun in the rear yard at the Minnesota Avenue home where he was apprehended.

Clayton Williams, 17, of East Ferry Street and Lisbon Avenue, was charged with obstructing governmental administration and unlawful possession of marijuana after police reported finding three bags of the drug in his possession.

Philip Smith, 18, with addresses on South Division Street and Minnesota Avenue, was charged with obstructing governmental administration.

Police records show Jibreel Williams had been arrested April 23 on charges of using a loaded gun in a robbery.

That case was sent to a grand jury May 22, and City Judge James A.W. McLeod released Williams on his own recognizance, according to court officials.
---
Bid to Use Police Phone Ends In Weapons ChargeThe Buffalo News
10/7/2006


A 29-year-old Buffalo man who walked into the Ferry-Fillmore District station early Friday morning to use the telephone walked out in handcuffs after police discovered a loaded .22-caliber revolver on him.

Jacobi O. Boyd of Carl Street walked into the station at about 4:40 a.m. and asked Lt. Richard Bartoszewicz to use the phone. As a precautionary measure, Bartoszewicz patted the man down and found the revolver, with three live rounds, in his jacket pocket.

Boyd was charged with criminal possession of a weapon, a felony.
---
Two Arrested in Theft of 142 Parking Meters
By T.J. PIGNATARO
News Staff Reporter 9/29/2006
Two Camp Street men are accused of pilfering 142 parking meters in downtown Buffalo recently and breaking them open to loot them, city officials reported Thursday.

George Robinson, 46, and Terrence Miller, 30, of the same Camp Street address, were charged with felony criminal mischief, grand larceny and possession of burglary tools, according to authorities, who said additional charges are pending. Acting on a tip, Buffalo police - led by Detective Sgt. Thomas Donovan - recovered as many as 40 meters and tools used to open them Thursday morning at the home of Robinson and Miller, according to a statement by Mayor Byron W. Brown. Both men confessed to the crimes, authorities said.

Police found other meters dumped in several locations near the Camp Street house.

"The missing parking meters were not only an inconvenience to drivers, but it was also costing the city money," Brown said.

How much money the city lost has yet to be determined, officials said, but it is likely several thousand dollars. Each meter can hold up to $60 in quarters. Replacing each meter can cost between $300 and $450.

Police began probing the thefts earlier this month after meters disappeared in several areas downtown, including sections of Seneca Street near Washington Street and some streets near the Buffalo Convention Center. One even was stolen from Niagara Square in front of City Hall.

In many of the thefts, a saw apparently was used to cut the meter pole. Vehicles also might have been used to yank the meters down.
---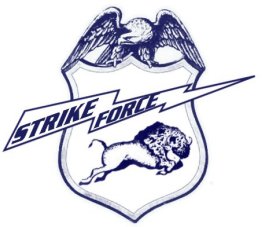 Strike Force Hits Hard
Gipson says criminal activity drying up
By GENE WARNER News Staff Reporter
9/16/2006
Two 16-officer squads of Buffalo police have been operating in targeted neighborhoods since mid-August in a crackdown on gang-related activity and other violent crime.
While Operation Strike Force already has logged 589 arrests, Police Commissioner H. McCarthy Gipson found another way to describe the impact on these high-crime "hot spots."
"After about two days in an area, we've discovered that the criminal activity dries up," Gipson said. "People are saying you can't score drugs in there."
During a City Hall press conference Friday, Mayor Byron W. Brown called this an important effort to reduce crime, eliminate gang violence, remove illegal guns and drugs and support law-abiding citizens.

The mayor also delivered a stern message to criminals:

"Go straight, get out of town or give yourself up."

The strike force, operating since Aug. 14, targets a roughly 10-to-12-block area for several days, sending one of two 16-officer teams into the neighborhood from 4 p.m. to 2 a.m.

Unlike regular patrol officers, who basically respond to 911 calls, these strike-force officers actively search for any criminal activity in the targeted areas. Gipson said strike-force members are cracking down on anything that's illegal and not nailed down.

"We want them to be mobile, agile and slightly hostile," the commissioner said.

In the strike force's first 31 days, it made 589 arrests, or 19 per day; issued 2,095 traffic summonses; impounded 408 vehicles; confiscated 28 guns; and seized $19,857 in cash.

The initiative also has brought in more than $78,000 in revenue, through traffic tickets, towing and other fines and fees.

A staple in the operation is the use of a "mobile plate hunter," a computer-sized device with infrared cameras that quickly scans license plates heading in either direction. The license plates are checked against lists of stolen cars, uninsured and unregistered vehicles, and cars owned by people wanted by police.

The commissioner was asked about the two recent shootings of armed suspects by strike-force officers.

"These are circumstances where people pointed guns at police officers," Gipson replied, adding he would defend any officer acting in self-defense.

The targeted areas are picked using crime-mapping information from police crime analysts, internal intelligence reports and input from the department's district chiefs.

The targeted areas in all five city police districts include: Broadway-Fillmore, Grant-Ferry-Hampshire, Grant-Congress, Bailey-Alma, Fillmore-Leroy and Seneca-Babcock.

Officers in the 34-member unit come from each of the city's five police districts and the department's Flex Unit.
---
Police Commissioner H. McCarthy Gipson Will Be Off Duty For Six Months On Medical Leave,
Deputy Commissioners Byron C. Lockwood And Daniel Derenda Will Split Commissioner Duties In The Interim
Police Commissioner H. McCarthy Gipson
News of Gipson's Illness Stuns Colleagues
Head of city police taking leave to begin treatment for "moderately aggressive' form of prostate cancer
By VANESSA THOMAS and BRIAN MEYER
News Staff Reporter 8/22/2006
Buffalo police officers, usually hardened by the tragedy they see on their jobs, were numb, somber and crying Monday when news spread that Police Commissioner H. McCarthy Gipson has prostate cancer.

Gipson, 58, sent shock waves across the city when he announced Monday morning that he has a "moderately aggressive form of cancer" but insisted that the prognosis is "very good" and expects to return to his job after his recovery. He is taking a medical leave to undergo radiation treatment.

Gipson, a well-respected law enforcement veteran of 35 years, has been the city's top cop for the past 61/2 months.

Several police officers openly wept when they learned about Gipson's health problems, while Common Council members and community leaders were equally stunned and saddened.
"He's always been a big, strong guy - real positive - and that will be the type of thing that will carry him through this," said Lt. Margaret Sack, a colleague of 25 years. "He's the best police commissioner we've had in my career. He's focused on getting the bad guys off the street and getting drugs off the street, and cops are happy to be cops again.

"Hopefully, he'll be brought back to us sometime soon," she added. "This is a real blow for us."

Gipson said he will begin five weeks of radiation in mid-September. He was diagnosed with prostate cancer July 29 after he began experiencing health problems in late April.
Deputy Commissioners Daniel Derenda and Byron C. Lockwood
Gipson will be on a family medical leave, approved by the city, which means he can be away from work for up to six months - unpaid - but he keeps his fringe benefits, according to Corporation Counsel Alisa A. Lukasiewicz.

Gipson's disclosure came on the heels of a controversy over his delay in establishing residency in the city. The City Charter requires mayoral appointees to establish residency within six months of taking office, so Gipson received Common Council approval for an extension that gave him until Monday to move into Buffalo from his home in East Amherst.

Gipson said he was looking into a medical-related extension to the residency waiver, but legal experts told him there was no such provision, which contributed to his decision to take a medical leave.

In Gipson's absence, the Buffalo Police Department will be run by the two deputy police commissioners who will share Gipson's duties.

Mayor Byron W. Brown's decision to have the two police deputy commissioners - Byron C. Lockwood, first deputy commissioner of administration, and Daniel Derenda, deputy commissioner of operations - run the department in their current positions means the Common Council would not have the authority to confirm an acting commissioner.

Under the new plan, Lockwood will assume all management duties, while Derenda will handle external communications.

"Mac will be back here in the near future, so we'll run the department status quo until he gets back," said Derenda, referring to Gipson by his commonly used nickname. "We'll run everything past him, and I'll call him and get his approval. Really, nothing has changed. As far as I'm concerned he's still the police commissioner."

Lockwood stressed that the city's criminals should still be on edge because the crime-fighting initiatives will continue.

"Let's make no mistake here, the pressure is not going to let up because the commissioner is sick," said Lockwood. "We're going to stick with the same strategic plan to combat crime."

Delaware Council Member Michael J. LoCurto praised Gipson's involvement in neighborhoods, noting the commissioner attended many public events. "He does a good job with the public and has been pretty accessible," said LoCurto.

Some community leaders who are on the front lines of combating violence praised Gipson's term at the helm.

"Commissioner Gipson and I have a great relationship," said Dwayne Ferguson, president of MAD DADS, an anti-crime organization. "He is up to date on things and is always right on point about the things he hopes to change."

Back at the Police Department, many rank-and-file officers and police officials were offering their well wishes and eagerly awaiting his return.

"I think first and foremost, his health is the most important thing," said Central District Police Chief Donna M. Berry. "His leadership skills have really rubbed off on a lot of people. Of course, we'll miss him, but I think we can hold down the fort until he comes back."
Police Take High-Tech Aim At Drivers Who Keep Secrets

By VANESSA THOMAS News Staff Reporter
7/31/2006

The Buffalo police will soon begin using a
new tool to find lawbreakers - a gadget
capable of scanning your license plate and
revealing all your traffic infractions and felony
warrants in milliseconds.
In the blink of an eye, the license plate reader can zap your license plate and check it against criminal hot lists.

If there's a hit, the reader's screen flashes red and it reveals, in words, any crimes or infractions tied to that vehicle - including fugitives, outstanding warrants, parole violators, sexual predators, stolen vehicles, revoked and suspended driver's licenses, expired registration, stolen license plates, parking violations and Amber Alerts.

Police officials expect to begin using their two new license plate readers across the city
within the next few weeks.

"If you haven't paid your parking or traffic tickets or kept your insurance up-to-date, this
machine will catch you," said Traffic Lt. Thomas J. Masterson.

Police plan to use the license plate readers during traffic checkpoints, neighborhood
clean-sweep programs and other crime-fighting initiatives.

Top police officials say they are mindful that some citizens may view the new license plate
readers as Big Brother watching over Buffalo's drivers, but they stressed that the machines
will be used within the bounds of the law.

"It is Big Brother watching, but technology brought us here. Technology like this can assist
law enforcement tenfold," said Inspector Joseph F. Strano, who is in charge of the police
department's administration and communications. "Those individuals who are abiding by
the rules of the road will just continue on their merry way, but if you're not abiding by the law,
you stand to get caught."

The Buffalo Police Department purchased one license plate reader for an estimated
$20,000, but the cost is being covered entirely by a state grant. A second reader was
donated to the Buffalo police by the state's Department of Criminal Justice Services.

The machine is so advanced, manufacturers say, that it can scan license plates of parked
and moving vehicles almost anywhere on the street - vehicles on both sides of the roadway,
vehicles driving toward the machine, and vehicles driving by the machine. It can even read a
parked or moving car across four lanes.

"They also say that these readers can get a car coming at you at 150 miles an hour,"
Masterson said. "Once you get close to us, it's too late."

For the last four months, the Buffalo Police Department's Traffic Unit has been quietly
practicing on the public using a borrowed license plate reader from the State Police.

From April 6 to July 5, Buffalo police conducted seven traffic checkpoints across the city with
the assistance of State Police and the U.S. Border Patrol. During that period, the license
plate reader helped Buffalo police issue more than 270 traffic summonses to motorists.

"We've been in every police district in the city since April," Masterson said. "We picked some
streets where residents had complained like Parkside, near Florence Avenue. We're always
getting complaints from residents there about speeding and people running red lights.
People were cheering when we were out there."

During the four-month trial, no serious criminals were arrested. The traffic summonses
included a Kenmore man whose driver's license has been suspended since 1983, the
driver of a private dump truck who was driving with suspended license plates, and the driver
of a truck loaded with medical waste whose insurance had expired.
Gerald W. Schoenle Named Police Chief at University at Buffalo
By JAY REY BUFFALO NEWS STAFF REPORTER 7/11/2006
A native son is returning to the region to be the University at Buffalo's next police chief.

Gerald W. Schoenle Jr., a retired Buffalo police captain currently working as an assistant police chief in Arlington, Texas, will take over as chief of police at UB on July 31, officials said Monday.

Schoenle, 50, will replace John M. Grela, who is retiring from the university after 33 years, the last 15 as its police chief. Grela will stay on at UB until Oct. 31.

"The position is very appealing to me. I like the university setting a lot," Schoenle said Monday by phone from Texas. "I just feel it's a really good fit for me, and this would be a nice way to finish up my career."

Schoenle started with the Buffalo Police Department in 1980, rising from a patrol officer to the rank of captain of communications and administration when he left in 2000.

Schoenle taught many of the area's officers at the police training academy, where from 2000 to 2005 he served as director of public safety training for Erie County Central Police Services.

He then applied for the job in Arlington - a city of nearly 360,000 people - where he has been an assistant chief since May 2005.

Schoenle still was in the process of moving his family from Eggertsville to Texas, when the opportunity came up at UB.

As UB's police chief, he will oversee 61 sworn officers, who patrol the North and South campuses, where, like other college campuses, the majority of reported crimes are theft and drug and alcohol violations.

Schoenle was selected by a search committee, which considered more than 100 applicants from around the country, said Dennis R. Black, vice president for student affairs.

"The committee found that his mix of local knowledge, his demeanor and his willingness to be an innovative leader made him the ideal choice for this important position," Black said.
Detective Mark R. Stambach Retiring Homicide Detective Grateful to his Mentors


By LOU MICHEL BUFFALO News Staff Reporter 6/25/2006

Stanley Sherry stood up from his chair in the homicide interrogation room at Buffalo Police Headquarters and got in the face of Detective Mark R. Stambach.

"You're accusing me of murdering my sister," Sherry yelled in the detective's face.

"Yes, I am," Stambach answered softly.

This is the intense world Stambach, the city's longest tenured homicide detective, has lived in. He is retiring today after nearly two decades of cajoling, tricking and frightening murder suspects into admitting their deeds.


And despite all the lies and gruesome scenes he

Detective Mark R. Stambach Homicide Squad
has encountered, Stambach says he loved every day of his work, even if some involved dodging bullets and, in one instance, fatally shooting an armed robbery suspect.

Homicide investigations represent "the World Series of police work," he says, because no crime is more heinous than taking a life.

Assigned to hundreds of murder investigations, Stambach, 56, is quick to give credit to those who helped him learn his craft along the way.

His mentors, as he calls them, include five "old school" gumshoes, Bob Grabowski, Dan DiPirro, Melvin G. Lobbett, John Ludtka, all retired, and the late Eddie Gorski.

They taught him that homicide detectives "speak for the dead" and that the first witness you interview is the crime scene.

"It talks to you," he said.

And the third lesson: Solving a murder is always a team effort.

That was the case last year when Sherry angrily denied killing his sister, Valerie Georgeff, in the Sobieski Street home the siblings shared.

While Stambach continued his interrogation of Sherry, Detectives Mark Vaughn and James Lema were phoning in information that they found no signs of forced entry into the house and that the beating death indicated it was personal - someone who probably knew the victim.

At the same time, Detectives Reginald Minor and Patrick Judge were able to disprove Sherry's alibi of being with his girlfriend at the time of the killing.

Stambach shared what the other detectives had learned and then, matter-of-factly, informed Sherry he would be charged with second-degree murder.

"He sat back down and stopped screaming," Stambach said. "I said "Stanley, you're going to have to tell me what happened. I don't want to charge you with murder.' "

But Sherry wasn't ready to make an admission.

Stambach tried another tack.

He asked the 54-year-old Sherry what he would miss most when he was sent to prison for the next 25 years.

"A fish fry," Sherry said. "I love my Friday night fish fry."

Stambach pounced on the opening.

"I'll tell you what, we're going to stop right now and have dinner together. I'm going to order out two fish fries," said Stambach, who wasn't even hungry.

After eating the fish fries a patrol officer delivered, Stambach stared at Sherry and broke the silence.

"You're going to have to tell me what happened," he said.

Sherry lowered his head.

"I did it," he said. "I killed my sister."

He beat her up, Sherry explained, because the 65-year-old woman had been picking on him.

Sherry also admitted to having a drug problem and that the tension between him and his sister had been building for some time. Stambach calmed Sherry and told him that he would be a witness for Sherry at his murder trial.

The offer was genuine. Stambach later told the jury exactly what Sherry had told him.

"In actuality, I was a witness against him," the detective said.

The trial ended with Sherry convicted and sent to prison for 25 years to life.

When defense attorneys criticize Stambach's interrogations that have landed their clients behind bars, Stambach has a standard answer: "I didn't commit the crime. My job is to investigate and find the murderer."

Lt. Kenneth M. Bienko, chief of homicide squad, says Stambach was a key investigator, a go-to guy in tough cases.

"He's definitely a great interviewer. He was a piece of the puzzle, and it's tough rearranging the puzzle now that he's left," Bienko said.

Even some defense lawyers give Stambach good reviews.

"He's absolutely the most fair, even-handed person who ever worked in homicide. Mark doesn't hide the truth. He doesn't try to hide facts favorable to your client. I wouldn't say that about everybody," attorney Leigh E. Anderson said.

So what will Stambach do in retirement now that he isn't getting murderers to confess?

"Read detective novels," he said. "It's my favorite pastime."
Police detective pursues on-line sexual predators


By ANTHONY CARDINALE
BUFFALO News Staff Reporter 5/17/2006

Most sex offenders are between 25 and 45 years old, but Detective Sherry L. Kiszewski has received child pornography on her computer from predators of all ages, including a 15-year-old boy.

The Sex Offense Squad detective explained the ins and outs of her undercover work in cyberspace for 25 parents Tuesday evening in Southside Elementary School.

Posing as 14-year-old "Danny," the detective said, she logged on to a chat room and got an instant message from someone named "Tommy."

Asked what Danny was interested in, the detective replied that Danny was curious about men and women, but unsure of what he liked. Tommy replied that Danny was too young for this chat room and should exit

Detective Sherry Kiszewski reviews a list of tips for parents to follow to keep Internet predators from preying on their children.

PHOTO Derek Gee/Buffalo News
But two weeks later, when Danny was back in the chat room, Tommy struck up a conversation: "Hey, what are you doing? Want to come over and have some fun with me?" Tommy agreed to pay the cab fare for Danny to visit him, posing as Tommy's nephew.

Borrowing a cab from the police garage, Kiszewski did the driving and someone else sat in the back seat as the young passenger. They stopped outside an apartment house.

"I see this little old man with gray hair and a cane, trying to run to the cab door," Kiszewski recalled. "He gets to the door, and I say the fare is $8.50. He hands me a 10 and says, "Keep the change - where is he?' "

The old man was arrested.

Another sex offender did all the driving - for 26 hours from the Midwest - for a rendezvous with a 13-year-old girl in Cheektowaga. He kept in touch with her all the way with text messages from his cell phone.

The girl's father, already suspicious about her computer habits, had called Cheektowaga police, who traced the origin of the messages and found the man's van at a Williamsville motel. In his room they found candy and a card for the girl, and a laptop computer set up to play her favorite song. He was arrested.

The same girl tipped officers off to a Grand Island man, Jeffrey Hart, 27, who also was pursuing her on-line. Kiszewski chatted with him for six months and finally met him in a market at Grant and Amherst streets.

After his arrest, the former Town of Tonawanda teacher said from a federal prison: "The day they arrested me, I realized what I had become, a monster."

The detective offered parents this advice:

Don't be afraid to spy on your children by keeping their computer in the dining room or by tracing their Internet activities with special software.

Don't let them e-mail full name, date of birth, school and home address to anyone they don't personally know.

Watch for telephone calls, letters or gift packages from people you don't know.

If you see an on-line account on your computer that you didn't open, chances are it's being paid for by somebody stalking your child.

Report suspicious activities to the FBI, 856-7800, or to Kiszewski, 851-4495, ext. 238.

Community Police Officer Anthony V. LeBron, who arranged the event, said Kiszewski was trained by the FBI and uses its program, but the Sex Offense Squad soon will develop its own program to offer local communities.
7 officers receive Edward H. Butler Awards for Heroism
Reprint Buffalo News 5/12/2006

Two groups of Buffalo police officers who were able to take gun-wielding suspects into custody without incident received the highest honor awarded at the annual dinner of the Buffalo Police Benevolent Association.

The dinner was held Friday night in Salvatore's Italian Gardens in the Town of Lancaster.

Edward H. Butler Awards for Heroism, named after the founder of The Buffalo News, were presented to Lt. Michael McCarthy and Officers James Hosking, Earl Perrin and Mark White of the Northeast District, and Officers Ronald Clark, David Daniels and Thomas Moran of the Ferry-Fillmore District.

Both groups of officers also received Officer of the Month recognition in 2005 for their respective cases.

It was Dec. 7 when Northeast District officers spotted the man suspected of shooting at an officer during an attempted traffic stop months earlier. Perrin and White, traveling in an unmarked car, saw the suspect take a gun from the passenger of a van on East Ferry Street.

Following a foot chase through the neighborhood, and from the rooftop of a delicatessen to the upper porch of a neighboring apartment house, officers cornered the suspect in the upper apartment, where he was subdued after a struggle.

During the chase, the suspect had pointed a gun several times at pursuing officers. It later was determined that the weapon was loaded and had misfired.

The Ferry-Fillmore District officers interrupted an attempted armed robbery July 13 at a store and caught the fleeing suspect.

Moran and Clark had seen a man, his face covered by a blue bandanna and a gun in his hand, run into a store at Sycamore and Herman streets. As they approached, they saw him pointing the gun at several patrons and employees.

Drawing their weapons, Moran and Clark ordered the suspect to drop his. The suspect fled through a back door with the officers following.

Daniels headed off the suspect a few doors down. Officers tackled and subdued the suspect, and recovered the gun.

Other officers honored were:

Detective George Dougherty Award - Detective Martin Bayerl.

An officer since 1968 and a detective since 1986, Bayerl has worked in the Burglary Task Force, Northeast and South districts before his current assignment to the Northwest District.

Treating each case and victim with equal importance, Bayerl has succeeded through tenacity rather than notoriety, substituting thoroughness for hastiness. He is the consummate district detective who epitomizes officers who work in relative obscurity but are indispensable to law enforcement in Buffalo.

Lt. George Howes Award for Leadership - Lt. Michael McCarthy.

A police officer since 1993, McCarthy was promoted to lieutenant in 2000 and given his current assignment in the Northeast District.

He has demonstrated leadership qualities throughout his career, best exemplified when he guided his emotionally devastated platoon through the unexpected deaths of two colleagues in recent years.

Butler Award for Citizens - William Lepere

Northwest District officers were looking for a bank robbery suspect the morning of Nov. 14 when Lepere, who was driving by, saw Officer Linda Wilson scuffling with the suspect.

Lepere stopped to help Wilson, and when the suspect broke loose, Lepere and Wilson followed him. Lepere wrestled the suspect to the ground and continued to struggle with him until additional officers arrived.

Lepere later found the stolen money in the grass and turned it over to police.

Butler Award for Service - Betty Lou Young

She started working for the department's federal credit union as a summer job at age 14; at 80, she still puts in a full week.

The daughter of a police officer who was among the credit union's founders, Young finished high school at night and attended continuing education twice a week until she was 16.

The decades have passed, the credit union has moved around, commissioners have come and gone, but Young has remained. She is an institution herself.

Police Officer Achievement Award - Officer Dave Greenway

A police officer since 1982, this former Marine is known for building cases that hold up through the legal system, realizing that arrests are only the beginning of the process.

Officers know that beneath his quiet exterior, there's a wealth of knowledge and a sincere dedication to duty.

Also a Coast Guard reservist, Greenway served active duty in Operations Desert Storm and Iraqi Freedom. Despite myriad accolades, he most values his service to others.

Officer of the Month award winners for 2005:

January - Officer Raymond Krug helped the Sex Offense Squad investigate a December 2004 sexual assault, working the streets to learn the suspect's real name and whereabouts, and staking out a Hopkins Street home for three days to make the arrest Jan. 25.

February - A gun was drawn on officers Thomas Duffy, Ronald Jentz and Steven Schulz on Feb. 24 while they checked out a report of someone selling drugs from a vehicle on Carolina Street. They subdued the man and took away the gun.

March - Officers James Panus and Barbara Walz followed footprints in the snow across several blocks March 20 to locate two suspects from an armed robbery at an East Delavan Avenue restaurant. The suspects' gun and ski masks were recovered.

April - Officers Steven Alvarez, Thomas English, Thomas Starkey and Michael Sullivan tracked down and arrested a suspect who had opened fire April 17 on English near the corner of Genesee and Rogers streets. A gun was found in a nearby back yard.

May - Officers Greg Handgis, Mitchel Mayer and Terrence Supples chased and caught two men suspected of robbing a McDonald's restaurant on Elmwood Avenue on May 14. Almost $1,000 cash and a loaded handgun were recovered.

June - Officers Steven Alvarez, James O'Donnel, Anthony Sisti, Sandra Sisti and Robert Skrabacz responded to a report of a violent domestic argument June 28 on Seneca Street and encountered the suspect, who pointed a rifle at them. One officer grabbed the rifle while another tackled the suspect.

July - Officers Ronald Clark, David Daniels and Thomas Moran.

August - Detectives Denise Crawford and Mary Gugliuzza, using a "paid" sticker from a 20-pound bag of rice used to weigh down a suitcase containing the remains of a homicide victim, tracked down the victim's identity and charged the victim's son and another man with murder.

September - Officers Michael Divito, John Kaska and James Panus, responding to a Sept. 30 report of a robbery suspect in the Newburgh Avenue area, arrested five suspects in a series of street robberies in the district. Two handguns were recovered.

October - Officer Thomas Sercu, from routine traffic stops and his own observations during 14 shifts, recovered more than two pounds of cocaine, 16 pounds of marijuana, $43,500 in cash and a loaded handgun. The recoveries led to nine arrests and the confiscation of several vehicles.

November - Officers David Cieply, Robert Lee and Thomas Moran had responded Nov. 2 to a homicide on Domedion Street, where one of the officers learned of a man with the victim's property. Officers found him; he subsequently was charged with the murder.

Also, Northwest District Officer Linda Wilson, responding to a reported bank robbery on Amherst Street on Nov. 14, checked out possible escape routes and spotted the suspect. Wilson struggled with the suspect and, with the help of a passer-by and another officer, was able to subdue and arrest him.

December - Lt. Michael McCarthy and Officers James Hosking, Earl Perrin and Mark White.
Narcotics/Homicide Tip Line

4/22/2006
The Buffalo Police Department's new Narcotics/Homicide Tip Line.

The number is 847-2255.

It is different from other tip lines in that it will be staffed by a civilian member of the Police Department during the day.

People calling in might feel more comfortable talking to a live person, who is trained to ask questions, Police Commissioner H. McCarthy Gipson said Friday.

It is hoped to eventually have the line staffed around the clock, but in the meantime callers can leave information if the line is not staffed. All information will be kept confidential, Gipson said.
3 Days of Secret Police Drug Raids Bring 78 Arrests Throughout City

Street-level dealers targeted in sweeps

By T.J. PIGNATARO and VANESSA THOMAS
BUFFALO News Staff Reporters 4/21/2006

A loud "flash bang" concussion device is detonated inside a Kensington Avenue house as Buffalo Police SWAT officers, clad in black armor and brandishing automatic assault rifles, storm a lower apartment.

"Buffalo Police. Search warrant. Buffalo Police," the officers yell to the now temporarily stunned occupants inside.

Within seconds, there are multiple shotgun blasts. At the same instant, another officer cradles a 1-year-old boy out the front door and down a flight of steps to safety.

When the smoke clears, three large pit bull terriers lay dead, in pools of their own coagulated blood. Five people are in handcuffs. They're among the latest of the 78 people arrested on drug charges during a three-day crackdown on narcotics sales across the city.

The drug busts, dubbed "Operation Shock and Awe," began Tuesday and are believed to be the first time the Buffalo Police Department has tried secret, consecutive raids.

By the operation's conclusion Thursday evening, police had seized about six pounds of marijuana, seven ounces of crack cocaine, five guns and more than $11,000 in cash. In all, they executed 38 search warrants in every corner of the city.
"We are declaring war on street-level drug dealing," said Police Commissioner H. McCarthy Gipson as he drove a Buffalo News reporter to the site of a raid Thursday.

"The reason for the secrecy is that we didn't want the drug dealers to know that we were coming," he added. "This has put a dent in the drug trade, put some operations out of business and addressed the fears of some of the residents. These residents are glad to see us taking action against drug dealers."

Besides cracking down on street-level drugs, police said the raids were designed as a means to interview the suspects about recent homicides or shootings. "This is not just about drugs," Narcotics Lt. Thomas R. Lyon said. "A lot of drug dealers have knowledge about violent crimes. Either they've heard who committed a shooting, or they were part of it, or they have heard rumors about who did the shooting."
The multi-agency operation was headed by Buffalo's Narcotics Unit and SWAT Team assisted by Amherst's SWAT Team and Flex Unit and the State Police SWAT Team.

The drug bust was headed by Deputy Police Commissioner Daniel Derenda; Chief of Detectives Dennis J. Richards; Flex Unit Inspector Michael F. Gaspar; Capt. Mark R. Maraschiello, SWAT commander; as well as narcotics unit lieutenants Lyon, John C. Eberhart and Steven J. Nicosia.

Mayor Byron W. Brown is expected to hold a news conference today announcing the formation of the Buffalo Police Department's new narcotics tip line for residents to report illegal drug activity.

On Thursday, reporters and photographers observed four raids - at 95 Wohlers Ave., 61 Koons Ave. and lower apartments at 427 Grant St. and 1350 Kensington Ave. Other raids were conducted at 341 15th St., 97 Fay St. and 317 Jewett Ave.

In the afternoon raid at 61 Koons, SWAT officers smashed the wooden front door and rushed inside. One occupant tried to jump from a second story window, but officers pulled him back inside, his arms flailing.

Bill Wippert/Buffalo News
Suspect Youthers Greer, above left, is restrained by Officers Martin Motley, left, and Earl Perrin as he tries to escape through a kitchen window during a raid Thursday on Koons Avenue. Below, Officer Motley smashes a glass door to gain entry for a house raid on Grant Street.
Two video cameras were hidden inside pine trees on the lawn in front of the quaint two-story brown brick house. They're part of a sophisticated video surveillance system set up to allow drug dealers inside to track the movements of their customers and police.

"This is very high-tech. We don't see this very often," said Detective David Sugg, after police tore down the wires attached to the cameras, disconnecting the surveillance system, which was no match for the speed of Thursday's raid. "Those cameras can see all the way down the street - both ways - so they can decide who they want to sell to."

The blitz concluded shortly before 9 p.m. Thursday. In addition to the seven houses raided Thursday, 15 search warrants were executed Tuesday with 31 arrests. Sixteen more were completed Wednesday, yielding 34 more arrests.

Tuesday's raids included: 126 St. Louis St., upper and lower; 15 Ivy St.; 39 Woltz Ave.; 348 Winslow Ave., lower; 76 Swinburne St., lower; 130 Sears St., lower; 90 Lombard St.; 696 Hopkins St., rear; 270 Parkdale Ave., upper; 330 Parkdale Ave., lower; 7 Langmeyer Ave.; 56 C. St.; 359 Bissell Ave; and 39 Laurel St.

On Wednesday, police raided 13 Dart St., upper and lower; 34 Goemble Ave., upper; 111 Goemble Ave., upper; 188 Coit St.; 1399 Broadway, lower; 25 Rommel, lower; 1245 Sycamore St., lower and upper; 91 Koons Ave., lower and upper; 122 Gibson St., lower; 225 Smith St., upper; 148 Breckenridge St.; 196 Albany St., lower; and 109 Gittere St., upper. A street-level patrol arrest for 3.5 pounds of marijuana and more than $5,000 cash was also made at 2317 Bailey Ave. on Wednesday, police reported.

"The word out on the street is that Buffalo is very hot with narcotics raids and no one knows who is going to be next," Sugg said.
Buffalo Police Doing More Than Writing Tickets
By DAN HERBECK BUFFALO News Staff Reporter 3/14/2006
Traffic summonses, arrests overall up in two months
Frustrated over frozen wages, Buffalo police officers handed out a huge number of parking tickets during the first two months of this year.

The ticketing blitz had the whole community talking. Many people were upset.

But that wasn't all city cops did during January and February.
Traffic summonses and overall arrests also were all up significantly over the same period in 2005. Driving-while-intoxicated arrests jumped by 40 percent. And the number of calls police officers responded to increased.Regardless of the reasons behind them, Police Commissioner H. McCarthy Gipson sees the numbers as a good sign.

"Pump up the volume," Gipson said. "I want to see officers more involved and more engaged in their work. From everything I can see, that's what is happening.
"If I thought the officers were giving parking tickets and neglecting their other duties, I'd be all over them. But that isn't the case."

According to Gipson, Mayor Byron W. Brown and police union President Robert P.Meegan Jr., this is the way it's going to be in Buffalo from now on.They say the city has begun a zero-tolerance policy on crime - especially drug-related crimes.

The city plans to arrest more drug dealers and more drug customers. In some cases, officers will seize the cars of suburban residents who come to the city to buy crack and other drugs.

Illegal parking, DWI, speeding and other traffic infractions that many cops might have been winking at in the past no longer will be tolerated in the city, Gipson said.
Dennis C. Enser/Buffalo News
Mayor Byron Brown, right, spoke Monday about the Buffalo Police Department's new zero-tolerance policy. With him are Commissioner H. McCarthy Gipson, center, and Deputy Commissioner Daniel Derenda.
"It isn't for me to say why these things weren't enforced as strongly as they could have been in the past," Gipson said. "I can only talk about what I plan to do."This is a new day for this department," Gipson said.

The union president agreed.

"The city has been the playground for people from the suburbs long enough," Meegan said.

The performance of police in the first two months of Brown's administration raises a number of questions:

• Is it an actual law enforcement crackdown or just a temporary uptick in activity fueled by anger over the wage freeze imposed on police by the control board?

• Will the crackdown end as soon as the Police Benevolent Association has its first few disagreements with the new mayor and commissioner?

• Who really runs the department - the commissioner or the union?

• If city cops can pack this much work into two months, why haven't they done it before?

Praise for police

Some city residents, like Rudolphus Boans Jr., are thrilled with what they've seen so far, especially after hearing Gipson and Brown outline their Zero Tolerance Action Plan last week.

"I hope the police keep it up, because the city needs it," said Boans, vice chairman of the city's Stop the Violence Coalition. "If you take care of the smaller things, like people gambling on street corners, you might have an effect on bigger things, like homicides. Enforcing the law on these quality-of-life crimes is long overdue."

Others, like James Ostrowski, president of the grassroots group called Free Buffalo, are skeptical. Monday, Ostrowski said he thinks the parking crackdown is already winding down.

"It's still a renegade police force," Ostrowski said. "If we have a drastic policy change like this coming from the union and rank-and-file officers, who is running the Police Department?"

Gipson said he wants police officers to use common sense and discretion in their enforcement of the law, but he wants that enforcement to be very strict when it comes to drugs and street crimes.

He said he wants officers to be much stricter than they have been in the past in enforcing traffic and parking regulations.

"There are people who want me to chastise officers for giving tickets, for doing their jobs," Gipson said. "I won't do that."

If officers were ticketing legally parked cars or illegally targeting certain people for harassment, Gipson said, "that would be different."

Exactly who started the crackdown? Finding the answer is a difficult task.

Ostrowski believes it is a union-backed protest action that will be short-lived. And he said it's wrong to let the union and cops on the street determine the city's law enforcement objectives.

Meegan said he did not start it, but he supports it. He said it all began with a few street cops, whom he would not name, and then spread like wildfire through the department.

"People keep fingering Bob Meegan and company, but the officers on the street are frustrated," Meegan said. "They've gone 20 months now without receiving a raise that was contractually agreed upon with the city.

Although the crackdown started weeks before Gipson took office on Feb. 13, he and the mayor claim it was a logical response by officers to Brown's campaign promise of "no tolerance" law enforcement.

New spirit

Gipson said he and the mayor have reached out to the police union, trying to improve relations that had become testy during the administration of Mayor Anthony M. Masiello and his police commissioner, Rocco J. Diina.

"I would like to think the police officers are wildly excited about the new leadership," Brown said.

According to some officers, Gipson, a respected former street cop, has brought a new spirit of cooperation to the department.

"Bob Meegan doesn't run the department. The commissioner does," said Traffic Lt. Thomas J. Masterson, who started police work in 1963 and is the department's senior member. "The new mayor and commissioner are trying to deal fairly with [officers], and I think the guys in the street appreciate that."

Officers appreciate that Brown has tried - unsuccessfully so far - to lift the wage freeze imposed by the state financial control board that oversees the city's finances, Meegan said.

"The rank-and-file officers are excited about our new commissioner and mayor," said Detective Christopher R. Dates of the Northwest District. "We had poor morale under the previous administration. This is a fresh start. Hence, you're seeing some very hard work being done."

Time will tell whether the stepped-up enforcement of the past two months becomes permanent. Meanwhile, the city will have to deal with some public relations problems relating to the parking ticket blitz.

"I talk to a lot of residents and business people, and the overwhelming response I'm getting is that it's hurting people and hurting businesses," said Justin Azzarella, executive director of the not-for-profit group Forever Elmwood.

"You hear about officers waiting on side streets,and then pulling people over in traffic. You hear about officers constantly ticketing cars on the same streets," Azzarella said.
Buffalo Police Department Promotes 5 Officers, Detectives
3/11/2006 Buffalo News
The Buffalo Police Department promoted five officers and detectives Friday, in the first such ceremony under new Police Commissioner H. McCarthy Gipson and Mayor Byron W. Brown.

Detectives John F. McGrath Jr. and Brenda M. Callahan-Moll were promoted to detective sergeant, while three officers were promoted to the rank of detective: David M. Piech, James W. Panus and Joseph S. Ahmed.

The ceremony, held Friday afternoon in the Police Academy, also recognized Chief Donna M. Berry, who already had been promoted.
Gipson Appoints Police Command Staff
By VANESSA THOMAS
News Staff Reporter
2/16/2006

Incoming Buffalo Police Commissioner H. McCarthy Gipson swore in five chiefs and two deputy commissioners Wednesday afternoon during a ceremony described as "a new day in the history of the Police Department."

More than 120 family, friends and fellow officers crowded Police Headquarters for the event. Gipson, a 35-year law enforcement veteran who is expected to be confirmed next week, appointed each member of his command staff on Wednesday.

The appointments included two detective sergeants - Daniel Derenda as deputy commissioner of operations and Byron C. Lockwood as first deputy commissioner of administration.

Harry Scull Jr./Buffalo News
Dennis J. Richards gets his Chief badge from his wife, Mary, during a swearing-in ceremony Wednesday
Dennis J. Richards was named chief of detectives. Others appointed as chiefs are: Jim Shea, South District, who will also oversee the Traffic and Flex units; Marcia Scott, Ferry-Fillmore District; Arturo Salas, Northwest District; Donna Berry, Central District; and Anthony J. Barba, Northeast District.

Berry missed the ceremony because of a vacation that was "scheduled a long time ago," Gipson said.

"This is a new day in the history of the Buffalo Police Department," Gipson said. "We're looking forward to combating blight and crime. Please don't expect miracles because I can't promise any, but we pledge to work our hardest to serve the citizens of Buffalo and forge a renaissance."

After the ceremony, Gipson and his new staff detailed plans to improve the Police Department.

Gipson said one of his top priorities will be addressing quality-of-life crimes such as loitering, prostitution and littering, because "all these little things lead to bigger crimes." He also said each police district will launch "mini task forces" on days when manpower permits, to target crimes plaguing district neighborhoods.

For the first time, two-officer cars will be used when there is extra manpower, but there are no immediate plans to utilize two-officer cars in high-crime areas, he said.

Derenda added that officers will receive new job-specific training, including homicide and narcotics detectives. "We want to make Buffalo safer for people to live, work and raise their families," said Derenda.
Gipson Named City Police Commissioner

Spent 27 years in department, then 7 with sheriff

By BRIAN MEYER and VANESSA THOMAS
News Staff Reporters 2/2/2006

When H. McCarthy Gipson became a Buffalo police officer 35 years ago, it was a different police department.

In 1971, Gipson made $7,226 a year. There were 1,400 people on the police force in a department that spent about $19 million.
Thirty-five years later, Gipson has been nominated by Mayor Byron W. Brown to become Buffalo's first African-American police commissioner. He inherits a department that has dramatically changed since his early law enforcement days. The force has shrunk to 774 officers. Spending exceeds $90 million with fringe benefits, making it the city's most costly department.

Gipson, a city police officer for 17 years before rising through the ranks, retired from the department as a captain in 1998 to accept a job in then-Erie County Sheriff Patrick M. Gallivan's cabinet. Since his departure, the Buffalo force has continued to shrink, the department has moved to one-officer cars, and wages have been frozen by the control board.

Gipson, 57, known to friends as "Mac," said he will focus on community policing and building police morale. He is also considering boosting manpower in an understaffed Narcotics Unit, increasing the responsibilities of district detectives and reorganizing the specialty units. He is also promising to be an "on the streets" commissioner who will visit station houses "at all hours."

"I feel truly blessed to have the chance to go back and lead the officers of the Buffalo Police Department," Gipson said Wednesday. "They have a very proud and strong tradition of providing service to the citizens."

Gipson is widely respected in law enforcement circles and was described as professional and hardworking.

When he was county holding center superintendent, Gipson was criticized when a Scientology church member financed a 2001 trip for Gipson and a deputy superintendent to visit a Mexican prison where they observed a Scientology anti-drug program.

On Wednesday, Gipson said he is a Christian and not a Scientologist, but saw the value of the program because "hard-core convicts appeared to be cured of drug addiction."

Brown picked Gipson from a field of 50 candidates, including 18 applicants who were interviewed by the mayor's transition team. Brown also appointed Daniel Derenda and Byron Lockwood deputy police commissioners. Both are detective sergeants and each has two decades of departmental experience.

While Gipson still must be confirmed by the Common Council, which appears certain, he is already giving some early glimpses of his concerns and priorities.

He believes the city might have to rethink plans that call for a continued downsizing of the police to 675 officers. He said there have been some "significant events" since the downsizing plan was drafted three years ago, including the possibility that a casino will be built downtown.

"I would actually like to have the opportunity to revisit the level of manpower to be utilized in the Buffalo Police Department in the next couple of years," he said.

Gipson also hopes to motivate officers to view themselves as neighborhood service-providers. But he said effective law enforcement requires a blend of skills.

"We're going to have to be mobile, agile and slightly hostile in trying to get the job of policing done in the City of Buffalo," he said.

Some community activists, rank-and-file officers and business leaders praised Gipson's appointment.

When Officer Alphonso Wright joined the police force in 1988, Gipson was his lieutenant at the old Precinct 8 at 647 Fillmore Ave.

"McCarthy is an excellent choice because he is fair, honest, and always made sure that officers put their best foot forward," said Wright. "He held people accountable and was fair, as long as you did your job. He knows what's happening in the streets because he was a street police officer.

Several officers urged Gipson to implement two-officer police cars in crime-ridden neighborhoods.

"Proactive policing is next to impossible to do when you're out there by yourself," said Ferry-Fillmore Officer Greg O'Shei, who works nights in one of most violent districts in the city. "It's hard when you're by yourself to approach a big group gathered on the corner. The officers are really at a disadvantage."

Police union president Robert P. Meegan Jr. said he has known Gipson for decades and feels he "possesses the good leadership and good direction" for the department. He also supports Gipson's plans to consider using two-officer police cars in high-crime neighborhoods.

"The former police commissioner [Rocco J. Diina] was more hell-bent on monetary issues versus protecting officers and the safety of citizens," said Meegan. "I'm happy to hear McCarthy's statements today that he is concerned about the reduction of manpower."

Jonathan A. Dandes, who chairs the Government Affairs Committee of the Buffalo Niagara Partnership, the area's largest business group, thinks Gipson's knowledge of the Buffalo Police Department and the county Sheriff's Department will foster more collaboration between law enforcement agencies.

The head of a city panel created to improve race relations and probe claims of police misconduct also praised the appointment. Rita Hubbard-Robinson, executive director of the Commission on Citizens' Rights, hopes Gipson will resolve a three-year battle involving the panel's push for access to closed case files on internal probes into police misconduct. The two sides have been unable to agree on disclosure procedures.

Brown named five people to chief-level positions Wednesday. Northwest District Capt. Dennis J. Richards was named chief of detectives. The other chiefs are Donna Berry, Arturo Salas, Marsha Scott and James Shea.

The responsibilities of the chiefs and deputy commissioners have been reorganized. Now, one chief is chief of detectives, while the other five chiefs will be in charge of each of the five police districts. The two deputy commissioners will have added responsibilities, heading up fiscal operations and administration. Brown must appoint one more chief.
---