---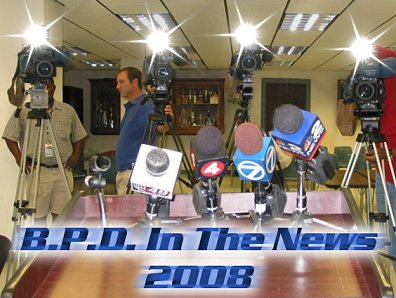 ---
---
Stress seen hitting female police most

By Aaron Besecker

NEWS STAFF REPORTER Updated: 12/29/08

UB study also note stension affects males

UB professor John Violante, a former state trooper, shows a Dual Energy X-Ray Absorbancy machine, which is part of the equipment used to test stress levels among Buffalo police.

Female police officers suffer more from the stress of their jobs than their male counterparts, though male officers aren't getting off easy, according to research led by the University at Buffalo .
One out of every four female officers assigned to a shift has thought about suicide, according to a study led by UB research associate professor John M. Violanti. Women also report greater instances of post traumatic stress disorder and symptoms of depression, a recent study has found.
At the same time, male officers report suicidal thoughts at nearly the same rate as female officers and, like women, show more symptoms of depression than is seen in the general population.

The work is part of an ongoing study into the health effects of stress on police officers, something Violanti has been looking at for more than a decade.

His experience as a state trooper gives Violanti an insight into the heads of officers and the mental and physical hardships of the job.

"Sometimes it's more dangerous than being shot at," Violanti said, "because stress can kill you, too."
Researchers are in the fourth year of a five-year study looking at how stress relates to disease.

So far, more than 430

Buffalo police officers have participated.

Violanti, who works in the department of social and preventive medicine in the School of Public Health and Health Professions, said he hopes to have studied 500 officers by the time the project wraps up in November of next year.

Researchers get their information from officers who have answered questionnaires and have been subject to clinical tests, including blood samples, echocardiograms and sleep monitoring.

The work has been funded by a $1.75 million grant from the National Institute of Occupational Safety and Health.

Also among the study's findings:

• For every 10-year period over age 40, police officers are at a higher risk for coronary disease than the general population.

• Seventy-two percent of female officers, and 43 percent of male officers, had higher-than-recommended cholesterol levels.

Another finding in Violanti's research: The average Buffalo police officer dies at age 66.

Some of Violanti's earlier work focused on suicide rates among police officers. His work in the mid-1990s found Buffalo police officers were 8.6 times more likely to die from suicide than at the hands of another person.

Buffalo police officers also showed more than three times the risk of suicide when compared with other city workers.

"Psychological survival is sometimes more difficult on policing than survival on the street," Violanti said.

The research also found the effects of stress differed, not only based on gender, but also on the shift an officer worked.

Men who worked afternoon and night shifts reported more suicidal thoughts, while the highest amount of suicidal thoughts among women were reported by those working the day shift.

Kathleen Pierino, an associate professor of criminal justice at Hilbert College who has previously done research with Violanti, believes female officers on day shift generally undergo more stress because of being away from family responsibilities.

"During the night, they're not really missing anything," said Pierino, a former state trooper and State Police investigator.

Both Violanti and Pierino also said they believe female officers generally face greater negative health effects due to stress at work because women are still in the great minority in the ranks of police officers.

Female officers typically don't have the level of bonding with other women as male officers do with other men on the force, Pierino said.

One benefit for the officers who participated in the study was that several were alerted for the first time to serious health issues, said Buffalo police Capt. Patrick G. Mann Jr., who has helped involve of ficers with Violanti's work.

Buffalo Police Commissioner H. McCarthy Gipson said he can personally speak to the stress police officers encounter.

The top cop, who has high blood pressure, high cholesterol and adult-onset diabetes, said he had trouble for years dealing with a traumatic incident in which he powerlessly watched another person die.

He also said he could recall off the top of his head four or five members of his Police Academy class who committed suicide.

Gipson noted the department does offer counseling and other services through the city's Employee Assistance Program. Some in the department don't like the program, Gipson said, for reasons including personality conflicts and a fear about information getting leaked.

Gipson said he is working with First Deputy Commissioner Byron C. Lockwood on a new protocol for what help officers receive following a traumatic incident.

"We don't provide enough," Gipson said.
A suspended Texas police officer testified Thursday that he was forced to have sex with two prostitutes during an undercover sting operation, saying he was "paid to do it."

Officer Keith Breiner testified in Beaumont, Texas, during a hearing to be reinstated after he was suspended along with another officer after it came to light that the men engaged in sex acts with prostitutes while on the job, the Beaumont Enterprise reports.

"If you are asking if I had an orgasm, yes. It was a job, sir," Breiner reportedly said during testimony. "I didn't have pleasure doing this. I was paid to do it."

Breiner admitted to being manually stimulated as well as engaging in oral and vaginal sex with two women at two spas during an undercover sting operation, the Enterprise said.

Police Chief Frank Coffin contends that Breiner and fellow officer Lt. David Kiker were suspended indefinitely after the sex acts came to light, the paper said. Breiner is trying to stop Beaumont from suspending him, saying that he was asked to have sex as part of the job.
---

NFL hiring experts to spot gang signals FOXSports.com

Updated:

July 16, 2008
Concerned that some of its players are flashing signals related to street gangs, the National Football League has hired experts to examine game tapes and identify the hand gestures, a newspaper reported Wednesday.
"There have been some suspected things we've seen," NFL vice president of security Milt Ahlerich told the Los Angeles Times. "When we see it, we quietly jump on it immediately, directly with the team and the player or employee involved to cease and desist. Period."
Ahlerich says the NFL has long warned its players about the influence of gangs. Concern intensified after Denver Broncos cornerback Darrent Williams was gunned down following an altercation involving known gang members in 2007.
The concern was raised with first-year players at the recent rookie symposium, and a video on the dangers of gangs was shown to every player in the league last year.
"Guys come from all over the country, and who knows what they're really doing?" Jacksonville Jaguars receiver Dennis Northcutt told the paper. "People have got signs for their kids, signs for their fraternities. How do you differentiate who's really throwing up gang signs?"
Northcutt gave an example.
"This is a gang sign," he said, touching his index finger to his thumb to form a squished OK sign. "But at the same time, it's a sign for a personnel group."
Mike Pereira, the NFL's vice president of officiating, said the gang experts being consulted by the league take those factors into account. They are looking for "symbols, clothing, jewelry or other items that would signify an association with criminal gang enterprises," Ahlerich said.
Game officials will not be asked to identify gang signals but will alert league headquarters of anything suspicious they see.
League executives did not specify how offenders will be punished, but Pereira said, "it will be dealt with harshly. The commissioner is not going to stand for gang signals on the field."
The NFL took further notice of the issue after Paul Pierce of the NBA's Boston Celtics was fined $25,000 in April for what the league said was a "menacing gesture" toward the Atlanta Hawks' bench. "I 100 percent do not in any way promote gang violence or anything close to it." Pierce said in a statement. "I am sorry if it was misinterpreted that way at Saturday's game."
The Times said that was the precipitating incident for the NFL.
"We were always suspicious that might be happening," it quoted Pereira as saying of gang-related signals. "But the Paul Pierce thing is what brought it to light. When he was fined . . . that's when we said we need to take a look at it and see if we need to be aware of it."
Other leagues have varying policies on aspects of the gang issue.
The Pac 10 Conference created a rule in 1992 prohibiting football players from wearing bandannas and allowing them to wear elastic skullcaps only if they were in the school's primary colors or black.
Major League Baseball has a policy related to merchandising, and forced New Era to pull New York Yankees caps last year because they featured gang colors and logos.
According to the paper, an NHL spokesman said the league has a policy against inappropriate gestures but has never employed a gang expert.
Information from The Associated Press was used in this report.
---

A city jail guard may have betrayed his badge to help an accused cop-killer, slipping the ex-con a handcuff key in a foiled escape plot, sources told the Daily News.
The unidentified Rikers Island officer is under investigation for conspiring with Lee Woods, one of three men charged with killing Brooklyn police officer Russel Timoshenko, the sources said.
The murder suspect swallowed the key - believed to have come from the correction officer - but never had a chance to use it.
A jailhouse metal detector picked up the key in his digestive system on June 25, the day authorities blocked Woods from a scheduled Brooklyn court appearance, sources said.
"For a man this manipulative and violent to have a handcuff key is a pretty shocking betrayal," said one law enforcement source.
Two rookie correction officers - Auguste Durand, 31, and Michael Santiago, 24 - were fired the same day on charges of delivering marijuana, rolling papers, cigarettes and an occasional swig of booze to Woods, correction officials confirmed.
A third officer is under investigation for sneaking Woods the handcuff key, as well as a Sim card - a portable memory chip for a cell phone, sources said.
"Woods is on trial for killing a cop, but he has all the comforts of home," a disgusted police source said. "Shameful."
Woods missed his June 25 court date over fears he possessed potentially dangerous contraband, Correction Department spokesman Stephen Morello said.
Morello declined to identify the contraband, although officials thought Woods had swallowed it. The spokesman did not say if the contraband was recovered.
For several days, Woods' hands were wrapped so he would have trouble retrieving any contraband excreted from his body.
Woods, and his lawyer, claimed he was framed.
"It was a setup," Woods told The News in a jailhouse interview conducted before The News learned of the handcuff key. "Auguste [Durand] put drugs into the window sill. Santiago had nothing to do with it. Why would they want to help me?"
The fired guards could not be reached for comment Friday, but Santiago has denied giving Woods any contraband.
Woods said he was beaten unconscious by Rikers guards after the two correction officers were fired.
He is searched three times a day - at the beginning of each tour - and was stripped of his belongings.
"I don't have a thing in my room - not even a book," he said. "They took away my Koran."
Morello said there was no evidence Woods was beaten, and said he was not aware that Woods or his lawyer filed any formal complaints alleging abuse.
"We treat each of our inmates as we'd want our children to be treated," Morello said. "To the best of our knowledge he's been treated in accordance with our policy."
Woods claimed he was only the getaway driver on July 9, 2007 , when Timoshenko and Officer Herman Yan pulled over a $50,000 stolen BMW carrying the three men.
Woods claimed his passengers - Dexter Bostic and Robert Ellis - shot Yan and killed Timoshenko.
Woods claimed he didn't even know there were guns in the vehicle, but he is still known as a "f---ing cop killer" to most Rikers guards, he said.
Woods' record behind bars reveals a love of violence, officials said.
He accrued more than five years worth of punitive time for more that 70 infractions at Rikers, including 14 assaults on staff, three arson attempts and several contraband violations.
Woods was caught with a homemade weapon - a razor blade taped to the end of a pen - in a state prison in 2000.
He racked up 26 violations during nearly five years in state prison before his 2004 release. Woods was accused of everything from throwing feces to attacking staff to fashioning homemade weapons.
"He's violent and vengeful," a police source said. "There is no mystery here."
---

Firing at officer nets 25 years to life
By Matt Gryta NEWS STAFF REPORTER Updated: 06/20/08 6:40 AM
A West Avenue man convicted of trying to shoot a Buffalo police officer who was chasing him was ordered Thursday to serve the same 25- years-to-life term a convicted murderer would get.
Basil S. Payne, still proclaiming his innocence and complaining about his attorney, was denounced by State Supreme Court Justice John L. Michalski for "trying your best to take the life" of Officer David Acosta two years ago.
Payne was convicted May 15 of first-degree attempted murder and weapons charges for shooting at Acosta with an unlicensed .40-caliber handgun he claims he bought on the street hours before the incident outside All High Stadium on Aug. 31, 2006 .
Jailed since his arrest the night of the incident, Payne, 25, contended his court-assigned attorney, Joseph J. Terranova, had "failed" to properly represent him. The judge rejected Payne's complaints and noted they can be raised on appeal.
Police said Payne fired at officers chasing him after he "test-fired" his gun.
Payne claimed he ran when he saw police drive by because he knew he had a "felony" — the unlicensed handgun — in his pocket. He said the gun went off when he tossed it into bushes as he fled.
As the judge imposed the maximum prison term on the first-degree attempted murder charge, he said he felt "the job of a police officer is of paramount concern to our community."
---

Woman says she was raped by man from dating site


Updated: 06/13/08 7:12 AM

A Buffalo woman told police she was raped Wednesday by a man she met on an online dating Web site, according to Buffalo police reports.

The woman said she invited the man she met on the "Plenty of Fish" Web site to her home for coffee on Wednesday. After he arrived about noon, she said, he hugged her and then began to kiss her.

When she resisted the kiss, she told police, the man grabbed her by the shoulders and led her to the bedroom where he forced her onto the bed and raped her.
---
Violent crime drops in Buffalo , Rises in Amherst
By Vanessa Thomas Updated: 06/10/08 11:50 AM
Violent crime in Buffalo dropped 11.8 percent in last year as compared with the year before — the largest decline in the last five years.
At the same time, violent crime in Amherst rose by 12.3 percent.
The decline in Buffalo 's violent crime was much sharper than the national figure: a 1.4 percent decrease, according to preliminary figures that the FBI released on Monday.
Police officials attribute the reduction to a slew of new crime-fighting programs. "It's aggressive policing and aggressive narcotics enforcement," said Daniel J. Derenda, Buffalo deputy police commissioner.
"We're aggressively going after narcotics and aggressively going after the gangs," he said. "This is the mayor's plan for zero-tolerance and it costs a lot in overtime, but it's working."
The number of murders in Buffalo dropped from 74 in 2006 to 54 last year, a 37 percent decrease.
Rapes dropped slightly, from 174 to 164. Robberies decreased 11 percent, from 1,708 to 1,533; and aggravated assaults were down 15 percent; from 2,001 to 1,739.
Buffalo 's property crime rose 4.5 percent in 2007 from the previous year, the figures show.
In Rochester and Syracuse — other upstate cities — murder and rape both increased last year. Robberies were down in both. Aggravated assault was down in Rochester and stayed the same in Syracuse .
Derenda said that besides all the police initiatives last year, officers have been "parking and walking" the beat more often, and he praised the city's Comstat program, which uses crime statistics and maps that pinpoint neighborhood-to-neighborhood or street-to-street crime trends.
Buffalo recorded 3,490 violent crimes in 2007, compared to 3,957 the previous year.
Amherst — considered one of the safest cities in the country — saw violent crime rise to 137 in 2007, compared to 122 the previous year.
" Amherst is an exemplary place to live," said Amherst Police Chief John Askey. "We have periods of upturns and downturns and this is worth studying and addressing, but by no means does this change the overall quality of life in Amherst ."
Property crime in the town fell by 3.9 percent in 2007 from the previous year.
The figures for violent crime in Amherst increased mostly because of a jump in robberies. There were 31 in 2006 compared to 47 last year, and many of those were pizza delivery robberies, Askey said.
"There has been an increase in drug-related activity," he said. "[People] are looking for money to buy drugs."
Amherst police say they tried to combat the drug problem with a massive raid in March that rounded up 36 people allegedly involved in a drug ring based in the Amherst area.
In addition, 15 officers retired from the police force last year, which caused a loss of "expertise" and a "significant impact on our effectiveness," said Askey.
Amherst police say they launched two new initiatives to reduce violent crime last year: a detective assigned part-time to the Safe Streets Task Force and the creation of a new community policing unit with officers dedicated to the northwest and the southwest parts of town.
Meanwhile, the national statistics for 2007 stemmed the tide against two straight years of rising violent crime figures. In 2006, violent crime had climbed 1.9 percent, and by 2.3 percent the year before, alarming federal and local officials.
In New York , police attribute the decline in murders to their Operation Impact, which floods high crime areas with officers, including some fresh from the academy.
Violent crimes dropped most in the Northeast, down 5.4 percent with 1.7 percent declines in both the Midwest and West. But they rose 0.7 percent in the South.
News Staff Reporter T.J. Pignataro and The Associated Press contributed to this report.
vthomas@buffnews.com
---

Los Angeles ex-cop sentenced to 102 years in raid case
LOS ANGELES (AP) — A former Los Angeles police officer who participated in home invasion robberies staged to look like police raids was sentenced Monday to 102 years in prison.
William Ferguson, 35, was convicted of participating in more than 40 phony raids from early 1999 to June 2001 at homes in working-class neighborhoods while he worked at the department's scandal-ridden Rampart Division.
In January, a federal jury convicted him of conspiracy to deprive people of their civil rights, conspiracy to possess marijuana and cocaine, violating the civil rights of others and using a firearm during a violent crime.
Ferguson 's sentence was so severe because he was convicted of four firearms charges which carry a mandatory sentence of 82 years in prison.
U.S. District Judge Gary Allen Feess said that Congress passed such sentencing laws "because they don't trust people like me."
"It's not a reasonable sentence," he said.
After the hearing, Assistant U.S. Attorney Douglas Miller said prosecutors were pleased.
Ferguson 's attorney, Philip Deitch, said it was unfair and violated the Eighth Amendment's prohibition of cruel and unusual punishment.
"He's going to be 147-years-old when he gets out," Deitch said. "He's probably not going to see his children again."
Deitch said Ferguson was unfairly punished because prosecutors would not give Ferguson a plea agreement unless he testified against his brother Joseph Ferguson, an ex-Long Beach officer. Otherwise, his client would have pleaded guilty long ago, he said.
Joseph Ferguson, 33, was convicted of charges that included conspiring to violate civil rights and conspiring to possess drugs with the intent to distribute them. He was sentenced earlier this month to more than eight years in prison.
Besides the Ferguson brothers, 15 other people have pleaded guilty or were convicted in the case, including lawmen from other departments. Two others who have been indicted are fugitives.
Copyright 2008 The Associated Press.
---

Gipson now interested in posting crime data on Web
By Brian Meyer Updated: BUFFALO NEWS 05/15/08 9:15 AM
Buffalo 's top law enforcer, in an about-face, has vowed to study a Web site program that would give city residents access to daily crime in their neighborhoods.
Police Commissioner H. Mc- Carthy Gipson told Common Council members Wednesday he's interested in learning more about an Internet program that already involves more than 135 municipalities in 22 states.
A week earlier, Gipson told The Buffalo News that participation in CrimeReports.com would create time-consuming tasks in a department that is understaffed.
"I'm not opposed to doing anything new and doing as many creative things as we possibly can," Gipson told lawmakers at a Council budget hearing Wednesday.
Gipson said the department has been looking into the program that allows people to type in addresses, then view maps showing crimes committed as recently as a day ago. Crimes are categorized, and many cities offer short summaries of specific incidents.
Police Capt. Mark Makowski said he visited the CrimeReports. com site and talked with a representative from the Utahbased company. Makowski thinks the initiative has potential.
"It gets the data out there. Of course, we have to be careful about ongoing investigations and how much information is released," Makowski said.
Police spokesmen in Washington ,

D.C., and Columbus , Ohio , said the Internet crime data has been well received by residents in their communities.
Staffing still needs to be addressed, Gipson emphasized, noting that the Police Department has a shortage of report technicians — civilian employees who perform much of the paperwork.
Someone would have to code crimes and prepare them for daily submission to the Internet site.
Niagara Council Member David A. Rivera, a Buffalo police officer on leave, agreed that it would make sense to assign such duties to civilian employees who are paid less than their uniformed counterparts.
"We don't want police officers working the desks," Rivera said. "They should be out on patrol or doing investigations."
Gipson told the Council his department will begin a review of CrimeReports.com later this year, noting there are other initiatives that require immediate attention. They include the expansion of Buffalo 's crime surveillance camera program and adjusting staffing levels in police districts when a new class of recruits hits the streets this summer.
"I give you my word that we will try to find a way to add more transparency," Gipson told lawmakers.
North Council Member Joseph Golombek Jr. has been the driving force behind efforts to bring CrimeReports.com to Buffalo . He sponsored a resolution last month urging law enforcers to consider the program.
Municipalities the size of Buffalo pay $199 per month. Golombek argued that if cities like Washington , Columbus , San Jose , Calif. , and Phoenix are participating, he can't see why Buffalo would find the program cumbersome.
"We're not being cutting-edge here; it's being done in other municipalities which have already dealt with some of the glitches," Golombek said.
---

Police praise professionalism in chase, arrest of four
By Vanessa Thomas NEWS STAFF REPORTER Updated: BUFFALO NEWS 05/16/08 6:42 AM
Fortunately, no one was killed Wednesday night when four young men went on a rampage, Buffalo police officials say.
In a gunbattle, the four exchanged as many as five shots with a group standing on the sidewalk, police said.
They then led police on a wild high-speed car chase, weaving in and out of traffic.
They also fired two shots at a passing police patrol car, striking the driver's- side rear door window and narrowly missing Officer Ronald J. Clark.
The four now face felony attempted murder charges.
Despite the flying bullets, police officers never returned fire.
"Not one was shot was fired by a Buffalo police officer," Daniel J. Derenda, deputy police commissioner, said Thursday. "We're very fortunate that we're not planning a funeral here today."
Chief of Detectives Dennis J. Richards praised the responding officers for their professionalism.
"Officer Clark is certainly an example of grace under fire," Richards said. "His reaction was very good, and his ability to continue the pursuit while he was being shot at is remarkable."
Police have arrested Demetrius McGee, 20, of South Division Street ; Jaymes B. Mayes, 21, of Barthel Street ; Mychal A. Carr, 20, of Perkins Place ; and Andre B. Goldsmith, 19, of Bissell Avenue .
They were being held without bail Thursday in the Erie County Holding Center and are scheduled to appear in court Tuesday for a felony hearing.
Police sources say all four previously had been arrested on narcotics charges. Records show that Wednesday night was also Goldsmith's 19th birthday.
Just before 8 p. m., the four drove up in a gold Chevrolet Equinox to a group of people on the sidewalk at East Ferry Street and Cambridge Avenue , police reported.
The occupants of the sport utility vehicle and the group on the sidewalk exchanged four of five shots, prompting reports to police.
The vehicle, which McGee was believed to be driving, sped off through several neighborhoods on the city's East Side , hitting 100 mph as officers gave chase.
A shooter in the vehicle fired two shots from a handgun, hitting Clark 's patrol car at Broadway and Lathrop Street .
The chase continued to South Johnson Park , where the four men bailed out of the vehicle between Delaware and South Elmwood avenues.
Police say they apprehended Mc- Gee and Goldsmith casually walking at Delaware and West Chippewa Street . Carr was arrested on Delaware Avenue , while Mayes was apprehended about a block away from the ditched vehicle.
All four have been charged with first-degree attempted murder. Mc- Gee also faces an additional charge of reckless endangerment, while Mayes and Carr also were charged with unlawful possession of marijuana and promoting prison contraband, for trying to bring the marijuana into the holding cell.
---

Donohue convicted of 1993 murder of South Buffalo
woman
Could face 25-years-to-life in prison
By Matt Gryta NEWS STAFF REPORTER Updated: BUFFALO NEWS 05/1

3/08

7:43 AM
Dennis P. Donohue, a former Buffalo bartender linked to the deaths of three women since the mid-1970s, was convicted late Monday evening of strangling Joan Giambra in the South Buffalo housewife's own home 15 years ago.
After about six hours of deliberations following a two-week trial before Erie County Judge Sheila A. DiTullio, a jury of nine men and three women found Donohue, 55, guilty of one count of second-degree murder for the intentional killing of his paramour Sept. 9, 1993.
Jailed since his belated arrested last Sept. 17, Donohue, who did not testify or present any alibi witnesses, did not display any emotion as the verdict was announced at about 11:20 p. m.
Assistant District Attorney Frank A. Sedita III and prosecutor Kristen A. St. Mary said they will urge District Attorney Frank J. Clark to recommend the judge impose the maximum term of 25 years-to-life when Donohue is sentenced June 30.
As the verdict was announced, the victim's three children hugged each other and about a dozen of their relatives and supporters who remained in the courtroom all day.
Joseph A. Agro, Donohue's attorney, said the quickness of the verdict convinced him he was correct in seeking to have the trial moved out of Erie County to guaranteed Donohue a fair trial. Agro said there are "a lot of significant issues" upon which to appeal the verdict, including alleged news media coverage calling for Donohue's conviction.
Moments after the verdict, Don Cormier, Giambra's only son, and her two daughters, Jackie and Kathleen Giambra, called the guilty verdict the best Mother's Day gift they and their mother could have hoped for.
Kathleen Giambra, who as an 11-year-old was found incoherent atop her mother's naked corpse and who believes Donohue tried to strangle her as well, said she was glad "the man that did this is behind bars and he can't hurt anyone else."
The late-night verdict came after the jury had a readback of testimony about the DNA evidence linked to what forensic scientists determined was Donohue's DNA under the fingernails of the 42-year-old victim.
Before Agro left the courtroom he said he is convinced that the jury "had its mind made up" before it heard any evidence at the trial based on all the negative publicity Donohue has been receiving over the past year.
Arrested and belatedly charged last September, Donohue was convicted of manually strangling the Hillside Avenue housewife early on Sept. 9, 1993 — his 41st birthday.
Donohue was living with relatives in Kenmore last September when members of the Giambra family urged the Buffalo Cold Case Squad to check into the possibility he was the killer.
---

Standoff that closed Niagara Thruway ends with gunman in custody


Updated: buffalo news 05/12/08 9:10 PM

A standoff with an armed man that closed the Niagara Thruway in both directions this evening came to an abrupt end just before when police charged the man, subdued him and took him into custody.

State Police and SWAT teams had surrounded the man's pickup truck on the shoulder of the highway near the southbound Ontario Street exit about It was reported that the man threatened to shoot himself.

The man appeared to be on a cell phone and was gesturing with a gun in his other hand for several minutes. A flash could be seen just as police rushed in. It was not clear if police had fired a weapon at him.

The man was handcuffed and put into an ambulance.

The incident apparently was a domestic dispute between the man and a woman in the vehicle. The woman was able to get away, according to witnesses.

The man, who was wearing a jacket with the General Motors symbol -- GM -- on the back, could be seen with a cell phone in his right hand and a gun in his left.

Motorists stranded on the I-190 behind the standoff watched helplessly and the curious crowded the nearby embankments. Meanwhile, thousands of viewers throughout the area watched the drama unfold as three local network TV channels broadcast the showdown live.

A man who identified himself as Tom Snyder told WIVB-TV that shortly before the standoff ensued, he passed a pick-up truck in Niagara County where the LaSalle Expressway meets the I-190. He said he saw a man in the vehicle punching a woman who was hunched down in the passenger seat. Snyder said he alerted police.

Motorists who were caught when the I-190 was closed were allowed to turn their vehicles around and head north on southbound lanes. Several trucks that were too long to turn around were lining the road's shoulder while the standoff continued.
---

Coke dealer 'Fat Frank' gets seven years in prison


Updated: buffalo news 05/12/08 10:46 AM

A man who was identified by police as a major Buffalo cocaine dealer after his arrest in May 2006 was sentenced to seven years and three months in federal prison today.

U.S. District Judge Richard J. Arcara could have sentenced Frank "Fat Frank" Battaglia, 26, formerly of Willett Street , to 20 years for running a continuing criminal conspiracy.

Drug Enforcement Administration agents and Buffalo police identified Battaglia as a major supplier of cocaine and other drugs in the city's Lovejoy area when they arrested him and 13 co-defendants on drug trafficking charges.

His attorney, Rodney O. Personius, said Battaglia has "turned his life around" in jail since the arrest, losing 170 pounds, getting his high school diploma and assisting prosecutors in several criminal investigations.
---

Hamburg Brothers Charged In Double Shooting In Buffalo


Updated: BUFFALO NEWS 05/12/08 4:08 PM

Two Hamburg brothers were charged Sunday night with committing a double shooting at a Seventh Street home over the weekend that left two men with gunshot wounds, Buffalo police reported today.

The alleged shooters were identified as Nicholas R. Krencik, 24, and his brother, Nathaniel J., 19, who both live at a home in the 3400 block of Howard Road .

Emmanuel Lopez, 17, suffered a gunshot wound to his upper left arm, while Omar Fraticelli-Lugo, 19, was shot in the hip. Police said both were treated in Erie County Medical Center for non-life-threatening injuries.

The shootings occurred about Saturday at the home of Lopez.

According to Central District police, Fraticelli-Lugo reported that there was a knock at the door and when he answered, one of two men opened fire.

Police said a .22-caliber gun was used to shoot Lopez and Fraticelli-Lugo. At least four shell casings were recovered by police at the scene.

The investigation was led by Detectives Edward Cotter and Thomas O'Brien, assisted by Officers Mark Locicero and Joseph Paolucci.

The two officers arrested the Krencik brothers at the Central District police station. They charged each of them with two counts of first-degree assault and criminal use of a firearm.

According to court records, Nicholas Krencik was convicted of assault in 2004.
---

Man arrested after shots are fired on East Side


Updated: BUFFALO NEWS 05/10/08 1:27 PM

A 32-year-old Woodlawn Avenue man was arrested early today for criminal possession of a weapon and obstructing governmental administration.

Police said the police were in the vicinity of Genesee and Hagen streets at about 3:15 a.m. when they heard gun shots.

They spotted a man running from the area and a foot chase ensued.

The officers tracked down the suspected gunman on top of a garage on Newburg Street. They also recovered a gun and the suspect, identified as Kelmyne J. Jones, was arrested.

Lt. Jeffrey Giallella and Officers James Kaska, Dawn Lopez and Mike Beavers participated in the arrest.
---

Raid on store yields counterfeit sneakers


Updated: BUFFALO NEWS 05/09/08 6:

43 AM

More than 800 pairs of counterfeit Nike sneakers were confiscated early Thursday evening from an East Delavan Avenue store, and three people were arrested, Buffalo police said.

Sharif Ziyed Nasser, 17; Rafed A. Zayed, 35; and Mohamed Elwaseem, 36, all of East Delavan Avenue, were charged each with felony counts of trademark counterfeiting as well as the possession of unstamped or untaxed cigarettes.

Detectives from the General Investigations and Narcotics units seized the sneakers from a store at 817 E. Delavan.

It was at least the third raid in the city in less than two weeks in which Buffalo police seized counterfeit footwear.
---

Buffalo man charged with stealing gas, electricity for his home


Updated: BUFFALO NEWS 05/08/08 3:54 PM

A 66-year-old Buffalo man was charged today with stealing almost $21,000 worth of natural gas from National Fuel, along with another $7,000 worth of electrical services from National Grid, over the past few years at his Franklin Street home, Buffalo Police said.

Police say Horst W. Nitzer tampered with the natural gas meter at his home and stole $20,947.98 in natural gas from National Fuel from Oct. 1, 2003 until two months ago on March 13.

Nitzer also is accused of tampering with the National Grid meter and stealing $7,039.20 worth of electrical services from Sept. 20, 2004 to March 14.

Det. Sgt. Tom Donovan and Detective Edward Cotter arrested Nitzer at the Central District police station on Main Street.

They charged him with two counts each of grand larceny, theft of services and criminal tampering
---

Animal lover gives Buffalo police dogs their own body armor
By Gene Warner - News Staff Reporter Updated: 05/01/08 8:44 AM
Buffalo 's two newest police officers were fitted with bulletproof vests Wednesday.
And they yelped with appreciation as the protective gea
r was wrapped around their underbellies.
Herc and Konan, the two rookies among the Buffalo Police Department's four K-9 dogs, proudly wore their new protective vests, thanks to the generosity of an animal lover who just wanted to do her part.
Joan Lewandowski — the owner of a cockatiel and two lovebirds — spent $1,200 of her personal savings to buy the vests for Herc and Konan.
The 68-year-old Cheektowaga resident was watching television last winter when she saw a story about a young girl who started a fundraising drive for K-9 dogs' vests in another city. Lewandowski remembered that story in February, when she learned that Buffalo had added two dogs to its drastically reduced K-9 Unit.
She knew the dangers that police officers — and their canine partners — face on drug raids and in confronting armed suspects, so she knew immediately what she wanted to do.
"I didn't want to ask for any donations," Lewandowski said after a brief ceremony in Police Headquarters. "I wanted to do it myself. I felt so strongly about it, that these dogs should be protected."
Some people might chuckle at the idea of a bulletproof vest for a dog, but K-9 Unit Officer Mary Ellen Sawicki isn't among them.
Police last week were searching for someone with a gun in the Northeast District when Sawicki responded with Herc. She noticed a vacant house where she thought the gunman might have been hiding and sent the dog in alone. No one was there.
"Now I'd feel more comfortable sending him in," she said. "If someone in the house had a gun, they'd probably shoot the dog."
Officer David Acosta, Konan's handler, agreed.
"There are times we send the dogs in alone without backup," he said. "You hope that just their presence will encourage a suspect to surrender. This gives them more protection should a suspect decide to become more violent."
The vests, comparable to those worn by officers, are probably capable of stopping a bullet from anything up to maybe an AK-47 assault rifle, Buffalo Police Commissioner H. McCarthy Gipson said.
"The dog would suffer trauma, but it would not necessarily penetrate or cause serious injury," he said of a less powerful round.
Both dogs were trained to answer commands in Czechoslovakian for "sit," "stay" and "lie down," a tactic designed to outsmart the criminals. "[The dogs] get their commands in Czechoslovakian, which I think is absolutely awesome," Gipson said.
The police officers were pleasantly surprised at how light the vests were and how quickly the dogs seemed to adjust to them.
And Lewandowski clearly was thrilled when she saw the dogs wearing the vests she bought.
"It was such a beautiful feeling inside, to know that they're going to be protected, that they feel good in the vests, and that they look absolutely wonderful," she said. "This is something that I will remember the rest of my life.
"If I can try to save some more money, then I'd probably buy [vests for] the other two," the former personal care aide said. "But I don't know if I could do it for a while."
Just then, Lewandowski looked over at one of the German shepherds, who was sitting contentedly, wrapped in his new vest.
"Look at him," she said with a smile. "It's like he's saying, 'I look so good, and I'm so happy.' "
Which could be in either English or Czechoslovakian.
---

Chicago plans show of force to deter its killing season
SWAT teams, more patrols after 36 shootings killed nine last weekend

20 public school students shot to death in past six months

Churches to open doors afternoons and evenings as safe havens

Mayor blasts gun industry, urges adults, parents to help troubled kids
CHICAGO, Illinois (AP) -- Police planned to increase patrols and put SWAT officers and specialized units on the streets over the weekend, a show of force aimed at deterring violence like the three dozen shootings that left nine people dead last weekend.
"Weather permitting, we will have our helicopter up," said police spokeswoman Monique Bond, who said Thursday night was relatively quiet, with only four shootings, none fatal.
Meanwhile, religious leaders said they had persuaded some churches to open their doors in the afternoons and evenings to protect people from gunfire.
"We just picked up about four more churches in Austin [a neighborhood on the city's West Side] that are going to open their doors as a safe haven," said Ira Acree, an activist and pastor of the Greater St. John Bible Church.
The recent violence followed a six-month period during which more than 20 Chicago public school students were shot to death.
On Friday, Mayor Richard Daley took the unusual step of calling together more than two dozen officials from the police department, schools, social service agencies and religious groups for a City Hall summit on the violence. Afterward, he said it was just the start of a continuing dialogue about how to combat violent crime.
A fired-up Daley blasted the gun industry and called on parents and adults to do their part by intervening to help troubled youth and by working to keep others on the right path.
"I don't want people to wait for Mayor Daley to call a meeting. I want you to call a meeting in your home with your children and loved ones. I want you to go next door and talk to those children next door. I want the parents of the block to say 'This block will be free of violence,"' he said.
It is key for children to be occupied in after-school or other programs so they stay out of trouble, especially when they're not in a classroom, Daley said.
Before the meeting, some participants talked about possible solutions to end the violence.
The Rev. Bruce Wellems, pastor of Holy Cross Immaculate Heart of Mary Church in the Back of the Yards neighborhood on the city's South Side, suggested that adults need to get to know the young people in their neighborhoods.
"I think they have to step into the community and accompany these kids," he said.
And Tio Hardiman, executive director of CeaseFire, an anti-violence group, said young people need help finding alternatives to the streets.
"We need to go right to the corners and find out what some of these young people want to do, identify some employers that are willing to hire maybe 30 from this neighborhood, 30 from another neighborhood and try to get them hired somewhere so then we can get them off the corners."
But Daley said joblessness does not justify violence.
"When the killing is done, you still don't have a job, in fact, it greatly decreases the chances that you ever ... will have a job," he said.
Hardiman said he expected that violence would not be as bad this weekend because of the police presence and other steps by community groups, including his group's efforts to talk to gang members and mediate disputes. Last weekend, there were 36 shootings -- at least 14 of which police believed were gang related.
But he said he's concerned about possible repercussions from a shooting at a McDonald's on Monday night that left one man dead and four others injured.
The area where the shooting took place is believed to be a stronghold of the Gangster Disciples street gang and Hardiman said he's concerned that someone may try to retaliate.
Copyright 2008 The

Associated Press

. All rights reserved.This material may not be published, broadcast, rewritten, or redistributed
---

Police subdue man before he can get gun out of his pocket


Updated: BUFFALO NEWS 04/21/08 2:01 PM

Two police officers lived through a harrowing experience Sunday night when a man, walking along East Amherst Street with a loaded handgun in his pocket, began fighting with them and reaching for the gun, police reported today.

Police identified the alleged gunman as William A. Kearney, 20, who is accused of fighting with the officers near his home in the 400 block of East Amherst at about

Officers Jose Colon and John Poisson, who are assigned to the department's Mobile Response Unit, were on routine patrol when they saw Kearney walking across the street with the black handle of a gun sticking out of his right front pants pocket, according to arrest reports.

As Colon and Poisson approached, Kearney reportedly pushed the gun completely into his pocket. But when the officers came closer, he tried to take the gun out of his pocket, police said.

Colon grabbed the man's right hand and his pants pocket, but the suspect fought with Colon and Poisson and kept trying to take out his gun, they said. The officers wrestled him to the ground, but he continued fighting while reaching into his pocket with his right hand for his gun, they said.

Police said Colon and Poisson were able to handcuff Kearney and they arrested him at the scene. They also recovered the loaded .22-caliber revolver in his pocket, police reported.

Police Officers Colon and Poisson subdue man before he can get gun out of his pocket
---

Arrest made in theft, sale of three cars


Updated: BUFFALO NEW

S 04/20/08 6:58 AM

A Katherine Street man faces a variety of criminal charges for allegedly stealing at least three cars, then selling them to a South Buffalo scrap yard, Buffalo police said.

Shawn M. Hussar, 20, stole the cars over a five-day period beginning April 11, police said.

Police said Hussar took a 1996 Buick Century to South Buffalo Auto Parts last Friday and said he didn't have the title but signed a Department of Motor Vehicles form stating he owned the car in order to sell it for scrap. The vehicle had been reported stolen just before 7 a.m. that day.

Last Monday, Husser returned to the scrap yard with a 1990 Oldsmobile Cutlass that he also sold, police said. That vehicle was reported stolen at about 8:15 a.m. the same day.

He sold another 1996 Buick Century to the business on Wednesday, police said. The owner alerted police at about 2:30 p.m. that day that the car was stolen, police said.

In each case, Hussar was charged with felony criminal possession of stolen property, offering a false instrument for filing as well as a misdemeanor charge for unauthorized use of a motor vehicle.
---

12 officers and detectives promoted to new ranks


Updated: BUFFALO NEWS 03/18/08 6:42 AM

The Buffalo Police Department recently held a promotional ceremony to promote 12 officers and detectives to higher ranks.

Five of the 12 were promoted to lieutenant, while the other seven were promoted in the detective ranks.

Promoted to contingent permanent lieutenant were Officers Linda D. Stanchak, Frank A. Guevara and Michelle R. Kubala, along with Detective James C. O'Donnell and Detective Sgt. Sallie A. Blersch.

Detective Sherry L. Kiszewski was promoted to contingent permanent detective sergeant, while Officers Carl A. Lundin and Louis S. Ruberto were named permanent detectives.

Promoted to contingent permanent detective were Officers Thomas A. McCarthy, Sean K. Buth, James P. Dunham and David J. Rambino.
---

Letter to Buffalo Mayor Byron Brown from Vincent Blasio
Subject Excellent work by Buffalo Police and Buffalo Police Underwater Recovery Team

To

Honorable Mayor Brown:

It has always been opinion that extraordinary work deserves extraordinary praise. The professionalism that was displayed by the Buffalo Police in the help with the search of one of our Correction Officers Anthony Dashner cannot go unspoken. All of those that were involved are definitely an asset to the City of Buffalo .

Police Chief, Brian Strobele was key in the search. He also kept us all informed throughout the search and again later with the help of the Underwater Recovery Team. His actions cannot go unnoticed.

I cannot say enough about the efforts of Lt. Al Liberatore and the Underwater Recovery Team. Often times putting themselves in harms way to continue the efforts of their underwater search.

Even though the outcome was tragic, these fine civil servants in the less than best conditions kept going to get the job done. What a job they did! My hat goes out to each and every one of them.

Being in law enforcement, I know exactly that most of the work that goes on is not in the spotlight. I wish to shine the spotlight to all of those that were involved Saturday February 16, 2008 in finding Correction Officer, Anthony Dashner. I hope that you also share with me and shine the spotlight on these fine individuals.

Sincerely yours,

Vincent Blasio

New York State Correction Officers and Police Benevolent Association

Gowanda Correctional Facility
---

Mansion trying to solve case of missing mink


Updated: BUFFALO NEWS 03/07/08 6:57 AM

Officials are looking for a woman who accidentally took the wrong mink coat, valued at $10,000, from the coat room at The Mansion, a luxury hotel on Delaware Avenue, during an event for Rep. Brian Higgins in late February.

Two women attending the event apparently wore nearly identical full-length, black mink coats. One of the women left with the one that wasn't hers from the coat check room sometime at about 8 p.m. Feb. 21.

"It's a case of mistaken coat identity," said Gino Principe, co-owner of the hotel at 414 Delaware. "They're both beautiful coats. Someone has a coat they shouldn't, and the coat they should have is sitting in my office."

The coat that was left behind has the embroidered initials "JDC" inside it. Contact The Mansion at 886-3300.
---

Arrest made in robbery that followed car chase
Updated: BUFFALO NEWS 02/07/08 11:26 AM
A 17-year-old Buffalo man was charged this morning with punching a motorist, pointing a handgun in his face, and then stealing his car keys, wallet and $87, police said.
Ferry-Fillmore District Police said Lamar Brown and another man, who is still being sought, were in their car when they chased after another motorist from Deshler Street and Broadway to Ashley and Mohr streets at about
The two men cut off the motorist, forcing the driver to exit his car, and try to run away, but the two men attacked the victim, held him at gunpoint, and stole items from inside his car, police said.
The two men returned to their car and sped away, but officers tracked one of them to a house on Swinburne Street , according to police reports.
Officers said they smelled a strong odor of marijuana coming from the Swinburne apartment and forcibly entered the home where they found Brown hiding in a bedroom.
Officer Patrick J. Crowley and Lt. Lance R. Russo arrested Brown at the scene and recovered the victim's keys, which were hidden inside his getaway vehicle, along with 29 bags of marijuana, which were found inside the apartment.
They charged Brown, of Stockbridge Avenue , with robbery, criminal possession of stolen property, assault, reckless endangerment, criminal use of a firearm, unlawful possession of marijuana, obstructing governmental administration and resisting arrest.
---

Traffic stop yields cache of heroin


Updated: BUFFALO NEWS 01/30/08 1:56 P

M

Buffalo Police pulled over a car Tuesday morning because a passenger was hanging out of the moving vehicle, but the traffic stop turned up 107 packages of heroin hidden underneath the driver's seat, police reported.

The driver, Luis Rodriguez, 19, of Bailey Avenue, along with his two passengers, Matthew L. Smith, 22, of 14th Street, and Indaleccio Rodriguez, 18, of 14th Street, were charged with two counts of criminal possession of a controlled substance.

The two passengers also were charged with obstructing the view of the driver.

Central District officers said Rodriguez Escalera was hanging out of the front passenger seat as the car headed along the 300 block of West Avenue at about 9 a.m.

Police said Officer Thomas Feeney recovered heroin in the car, along with $2,209 from the pants pocket of Luis Rodriguez.

Feeney and Officer Thomas Mayes arrested the three men.
---

Possession of crack, weapons draws 15 years
Updated: NUFFALO NEWS 01/30/08 6:37 AM
A man convicted of crack cocaine and firearm possession has been sentenced to 15 years in prison.
Dechaun Applewhite, of Buffalo , was convicted after federal agents raided his home and found 50 grams of crack cocaine and two guns. He was sentenced by U.S. District Judge Richard J. Arcara.
The sentencing ends an investigation involving the federal Drug Enforcement Administration, Buffalo police and the Erie County district attorney.
---

Two gunmen hold up postman, steal wallet


Updated: BUFFALO NEWS 01/28/08 6:45 AM

A postal carrier told Buffalo police Saturday that he was robbed at gunpoint by two teens at Langfield Drive and Suffolk Street.

The carrier said one of the youths stuck a black handgun in his stomach and said, "Give me your wallet."

"You can have it," the victim said, handing over a wallet containing cash, a credit card and personal papers.

"Where's your phone?" the gunman asked. "I don't have it," he answered.

Then the robbers, believed to be about 16 to 18 years old, ran off.
---

Pimp gets 57 years to life for killing prostitutes


Updated: BUFFALO NEWS 01/28

/08

11:34 AM

Harold Bonner, still professing his innocence, today was sentenced to 57 years to life in prison for the murders of two Buffalo prostitutes, one in 1995 and the other in 2006.

Senior Erie County Judge Michael L. D'Amico imposed the maximum-allowable prison term on Bonner's Oct. 23 conviction for the murders of Kimberly Warren, 38, and Mechelle Hicks, 35.

D'Amico called the murders "some of the most heinous crimes that I have seen" in decades on the bench.

Deputy District Attorney Frank A. Sedita III called Bonner, who has several street aliases, "a degenerate sociopath" who ran a local prostitution ring by feeding the women crack cocaine and beating any who crossed him.

Bonner did not testify at his trial, but claimed through his attorney that he is a victim of racism and a police vendetta.

Warren was fatally beaten sometime in July 1995 and Hicks was strangled on Jan. 4, 2006 . The remains of the two victims were found 11 years apart in the same lot on Rapin Street .
---

Among the city police recruits: A guardsman heading to war and Don Herbert's son
By Lou Michel NEWS STAFF REPORTER - News Staff Reporter
Updated: 01/19/08 10:10 AM
William Macy officially became a Buffalo police officer Friday along with 79 other recruits in the first swearing-in ceremony of new city police officers since 2001.
But he will not be joining his fellow officers on Monday when they start at the training academy.
He leaves Sunday to begin a year of active military duty that will take him to Afghanistan. It is not the 26-year-old's first deployment to a war zone. He also served in Iraq, where he suffered a wound to his pelvis that required three months of recuperation.
But Macy, who holds the rank of staff sergeant in the New York Army National Guard, was grateful to learn from police brass that his dream of becoming a city police officer will be safe while he is away.
"There will be a spot when you come back," Police Commissioner H. McCarthy Gipson said to Macy and congratulated him on his appointment as an officer.
Macy will help train the Afghan army and national police force as part of the biggest deployment of a single New York Guard unit since World War II.
"I have to fulfill my obligation, but the timing is bad for me personally," Macy said. "I look forward to coming back."
Macy's story was just one of many on a day that was filled with joy and excitement shared by the new police officers and their families who packed a 640-seat auditorium in the Buffalo Academy for Visual and Performing Arts on Masten and East Ferry.
Gipson pointed out that among the new officers was "the son of a Buffalo firefighter who gave his life in the line of duty."
That recruit is Thomas Herbert, 25, the son of Donald J. Herbert, who awoke from a decade of semiconsciousness he had lapsed into after suffering a brain injury battling a 1995 fire. Herbert later died, but not before communicating and spending time with his family.
"I'm really excited about working for the city. This has been my goal for a long time," Thomas Herbert said of following in his father's footsteps of public service.
Herbert, in fact, will have a head start on the other recruits. He is already a police officer for the Niagara Frontier Transportation Authority and will need only a couple of weeks of training before he begins patrol duty.
"I hope to hit the streets and do my part," he said.
And there was Allen Smith, a 32-year-old who saw police work as an unexpected career opportunity from his "cable guy" job with Time Warner.
"This is a chance for me to do something positive and be a role model," Smith said.
Sherry Ebert, who worked as a report technician in the department for 11 years, said she was thrilled to be moving up.
"I want to make a difference in the city, being there for the community," she said.
Mayor Byron W. Brown told the recruits he was glad to see all of them because they are the future of the Police Department.
Pointing out that the crime rate is dropping in the city, Brown said, "This doesn't happen by chance," but rather because of the hard work of police and, "You are those men and women we will count on."
---

City unveils safety plan for Chippewa
By Vanessa Thomas and Brian Meyer
Updated: 01/18/08 6:55 AM
A new mobile surveillance camera, increased police manpower and a team of tactical officers are all part of the city's newest tools to combat violence in the Chippewa Entertainment District.
Details of the city's new public safety offensive were announced Thursday afternoon on Pearl Street , between Tupper and Chippewa streets — a popular downtown area for theatergoers, barhoppers and nightclub patrons, where four people were wounded in a barrage of bullets in a parking lot at about Sunday.
The popular area has seen a disturbing increase in violence, with at least five shootings in roughly the past year.
"We're employing every tool and resource to make sure our downtown is safe," said Mayor Byron W. Brown, as he stood several feet away from Shea's Performing Arts Center and neighboring nightclubs.
"We want to send a message to any bad actor who comes down here," he said. "We will find you, catch you and put you in jail where you belong."
The new initiative, the Chippewa Entertainment District Public Safety Plan, includes boosting the number of officers, along with deploying the Police Department's Mobile Response Team, a permanent unit targeting gangs, narcotics and illegal guns.
In addition, the city will use its portable surveillance camera, a hightech device that can be raised up to 25 feet in the air and can be maneuvered to monitor the happenings in any direction.
The solar-powered device can find a face in a crowd using facial-recognition technology, read license plates up to 300 yards away and see along Pearl from Tupper to Mohawk Street , according to Police Commissioner H. McCarthy Gipson.
Police officials said all the initiatives are beginning this weekend and will continue as long as needed.
Dave Metz, owner of Insty- Prints at 265 Franklin St. , was among the area business leaders at the news conference who praised the new plan to enhance public safety.
"I think it's awesome, and I hope it continues," he said. "These operators will slide out the back door and start another club in a heartbeat, so we have to work with the city, the State Liquor Authority and the police."
Police officials say at least two nightclubs are attracting "thugs" and criminal activity to Pearl Street — Michalina's Bistro, a bar and nightclub at 454 Pearl , and Space Entertainment Complex, a nightclub at 425 Pearl , which was shut down Monday.
From June 1 to mid-January, police were called to Michalina's more than 20 times, Mc- Carthy's bar at 452 Pearl about 15 times and Space about 10 times, according to Buffalo police spokesman Michael J. De- George.
Those calls were mostly for loud noise, customer trouble and a few for fights outside, De- George said.
Ellicott Council Member Brian C. Davis — whose district includes Chippewa — said bar owners must be held accountable if their policies are fueling problems.
Davis met with representatives from the Chippewa group Wednesday and outlined a plan to tighten the city's licensing process. For example, Davis vowed to push for new conditions in license renewals that would prohibit patrons younger than 21 from being inside bars unless they're employees.
Frank Parisi, co-owner of So- Ho bar for nine years, is a leader of the Chippewa Business and Property Owners Association, a recently restructured Chippewa business coalition.
He said he supports Davis ' push to more aggressively regulate bars in hopes of keeping out "fly-by-night operators."
"The biggest problems involve some bar owners who get into a business that they're just not qualified to be in," Parisi said. "They have no dress codes. They don't care who they serve. That's where the problems happen."
Over the past year, Gipson has quietly made at least six trips to the Chippewa area to investigate any criminal activity at bars and nightclubs.
About seven weeks ago, Gipson said, he temporarily shut down Michalina's at about 2 a.m. after he caught a few underage drinkers, and he also visited Space nightclub, where he had a few patrons kicked out for rowdy behavior.
---

Store Owner Shoots Armed Robber
By T.J. Pignataro NEWS STAFF REPORTER
Updated: 01/17/08 6:56 AM
A 73-year-old West Side store owner foiled a robbery Wednesday evening when he pulled out a 9 mm handgun and shot the would-be bandit.
It was the second time in three days an elderly city store owner fired a gun during a robbery attempt. The 78-year-old owner of Bocce Club Pizzeria on Clinton Street chased away two would-be robbers Monday night with a warning shot.
Police said Wednesday's incident occurred when Shaun M. Ford, 30, of Linwood Avenue, North Tonawanda , targeted the West Side Market at 255 Carolina St. just before and demanded money from owner Ali Abdulla. Ford was wearing a protective mask used in paint-ball and was armed with a rifle, according to Central District Lt. David S. Stabler, head of the investigation.
Ford followed Abdulla behind the counter, continuing to demand money and pointing the rifle at him, police said. Abdulla then pulled out his licensed handgun and fired as many as two shots at Ford, striking him once in the leg, police said.
Ford fled the store, dropping the rifle and his mask and fell to the sidewalk just outside the store's front door, where he cried for help, police said.
He was taken to Erie County Medical Center for treatment and is expected to survive, police said.
Criminal charges against him were being processed late Wednesday, according to Michael J. De- George, Buffalo police spokesman.
The son of the store owner, Ahmed Abdulla, said his father runs the store from to seven days a week.
"The person came in and pointed the gun at him and my father shot him," he said. "I'm proud of him."
Police said it is unlikely the father, who was not injured, will face charges in the incident.
"It's not that we encourage vigilantism, but he appeared to have acted in self-defense," DeGeorge said. "Sometimes it's just reactionary. People react very differently in different situations."
As for the Bocce Club pizzeria, it was the second time in less than two weeks that the business was robbed. The owner there was confronted about Jan. 2 by two men, one with a pistol, who demanded money. Both bandits fled with cash.
Monday, two men entered the shop and one pointed a handgun at the owner but that time the owner pulled out his own gun and fired a single shot, scaring off the bandits.
---

2 police officers, lieutenant promoted in Buffalo
Updated: BUFFALO NEWS 01/12/08 7:29 AM
The Buffalo Police Department held a ceremony Friday afternoon, recognizing two officers and a lieutenant who have been promoted to higher ranks.
Lt. William P. Blake has been promoted to captain, in the Northeast District, the same station house where Officer Timothy C. O'Rourke has been promoted to lieutenant. Officer Brendan J. Kiefer has been promoted to detective, in the city's new Casino Operation Bureau.
Police Commissioner H. McCarthy Gipson presided over the ceremony and administered the oath of office to the three new supervisors.
---

Two teens charged in string of burglaries


Updated: BUFFALO NEWS 01/11/08 2:38 PM

Buffalo police have arrested two juveniles in connection with a string of "brick burglaries" that each began with the thieves throwing a brick through a window to gain entry to a home in the Genesee , Doat, and Bailey area.

Detectives believe the two young suspects, age 15 and 14, may be responsible for as many as 20 burglaries that began last November. Both juveniles were arrested Wednesday evening and charged with two of the crimes.

Police are not releasing their names, because of their ages.
---

Hersheys Pulling Ice Breakers Pacs, AKA Candy Crack Pacs, Off The Market

January 25th, 2008

Ice Breakers Pacs, which first hit store shelves in November, are nickel-sized dissolvable pouches with a powdered sweetener inside. The pouches come in blue or orange and bear the Ice Breakers logo.

Members of Philadelphia's police narcotics squad said the mints closely resemble tiny heat-sealed bags used to sell powdered street drugs. They charged that the consequences could be serious if, for example, a child familiar with the mints found a package of cocaine.

"Some community and law-enforcement leaders have expressed concern" about the shape of pouch and the Xylitol sweetener inside, and about the possibility of the mints being mistaken for illegal substances, West said.

We are sensitive to these viewpoints and thus have made the decision that we will no longer manufacture Ice Breakers Pacs.

Ice Breakers Pacs remain on store shelves but are expected to be sold out early this year and no more are being made. Kirk Saville, a company spokesman, said they had been distributed nationally on a limited basis.
---

URT Member Lt James Dee

Driver in chase jumps out before car goes in river


Updated: BUFFALO NEWS 01/08/08 6:49 AM

A motorist who was being chased by Buffalo police Monday jumped out of his car, which then landed in the Niagara River at the foot of Austin Street in the city's Riverside neighborhood.

Officers were attempting to pull the vehicle over at about 6:30 p.m. Police said the driver instead drove off down Austin Street and jumped from the car before it landed in the river.

The driver attempted to elude officers on foot but was caught after a brief chase. An officer was hit by the suspect's car door, but no other injuries were reported.

Police did not release the driver's name or any charges that may have been filed against him.
---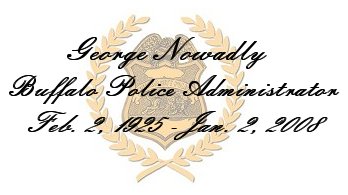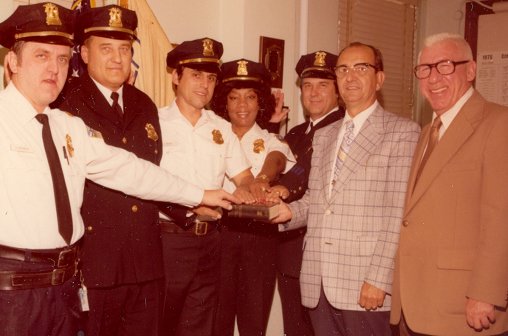 George Nowadly, in plaid sport jacket
George Nowadly, retired police administrator, WWII vet
Updated: BUFFALO NEWS 01/05/08 7:49 AM
Feb. 2, 1925 — Jan. 2, 2008
George Nowadly, a retired Buffalo police administrator and World War II veteran, died Wednesday. He was 82.
Mr. Nowadly, a South Buffalo resident who spent winters in Florida, placed first on the Buffalo police entrance exam and joined the department in 1947. After graduating from the police academy, Mr. Nowadly worked undercover as a gambling investigator and helped break up an illegal slot machine operation in February 1948.
During his tenure as police administrator, from 1969 until he retired in 1984, Mr. Nowadly worked under nine police commissioners. He also swore in four of the commissioners, as well as a dozen police inspectors, 42 captains, 161 lieutenants and 1,500 rookie officers.
His other duties as administrator included oversight of the annual police budget, ordering cars and other equipment. In his job, Mr. Nowadly also acted as the keeper of recovered stolen property and was auctioneer of unclaimed stolen property.
A World War II veteran of the Army Air Forces, he remained a member of the Air Force Reserves until 1985. He graduated from Canisius College in 1952 with a degree in business administration.
Mr. Nowadly spent much of his retirement traveling, including trips to Las Vegas and local casinos.
He enjoyed playing the slots, family members said.
Survivors include his wife of 59 years, the former Bridget M. O'Brien; four daughters, Rose Ann Pagan, Patricia Janicki, Bridget Ciravino and Margaret; and a son, Robert.
---