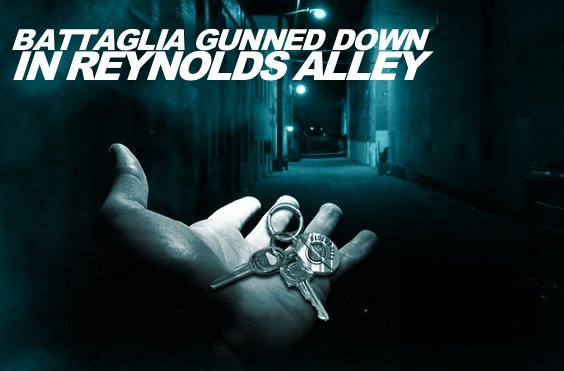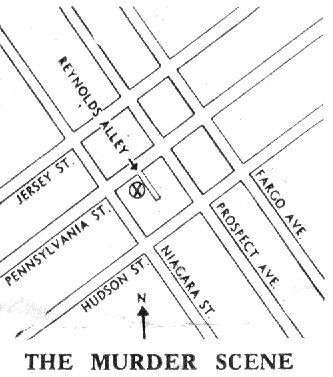 ---

Buffalo May 23, 1959 (UPI)—A 30-year-old Town of Tonawanda

man was found shot to death in a west side alley early

today and police termed the case a gangland-type slaying

The body of Richard R. Battaglia, 30. still holding a car's ignition key in a hand, was

found sprawled outside a 1953

sedan in Reynolds Alley. He had

been shot five times, police said.

Homicide Bureau

Chief Harry G.

Klenk said Battaglia, neatly dressed and with his feet still inside the door on the driver's side, may have been shot and pushed from the auto after he reached into the glove compartment.

The victim was known to carry a weapon on occasion, Klenk said.

Both front doors of the car

were open. The

victim apparently had been

forced to drive to the spot, then

was shot possibly as he tried to

flee.

Police termed the case a gangland-type slaying.

Klenk said Battaglia was traced to a West Side Tavern, the last spot where he was seen Friday night before the body was found.

The slaying was similar to the

killings last fall of Frank and

Fred Aquino. Buffalo brothers,

and Arthur De Luca of Niagara

Falls. All three gangland-style

slayings have gone unsolved.

Detectives picked up a number of Battaglia's acquaintances before dawn and questioned them

and several relatives at headquarters.

Police records showed that

Battaglia and four other men

were arrested last July in a gang

assault on Buffalo Patrolman

James L. Carroll, Jr., 30.

In another case, Battaglia and

two others were arrested in a

tavern last Oct. 19 and charged

with third degree burglary and

attempted first degree grand

larceny. Both cases , still were

pending.

---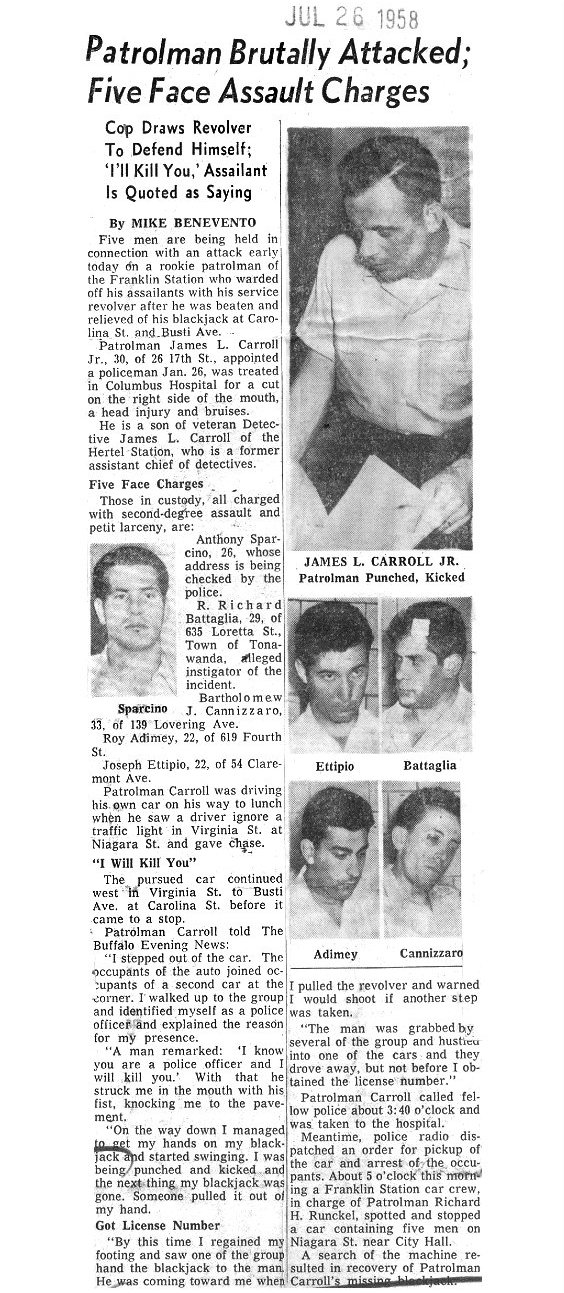 ---

May 23, 1959 - Five shots fired in a Buffalo West Side alley last night added the name of Richard R. Battaglia to the roster of apparent gangland war victims on the Niagara Frontier since September.

On Sept. 13, the body of Frank

Aquino, 28, of Buffalo was found

crammed under the dashboard of

his mother's 1958 Lincoln convertible

in Lackawanna.

Four days later, the mutilated

and nude body of Freddy (The

Fox) Aquino, 25, was found face

down in a field off of Two-Mi1e

Creek Rd. in Tonawanda. Freddy

was Frank's brother.

On Oct. 13, the body of Arthur

DeLucca, 23, of Niagara Falls,

was found stuffed in the trunk of

his light-colored 1957 Cadillac in

Begole Chevrolet's used car lot in

North Tonawanda.

All the victims had police records.

DeLuca and the Aquino

brothers were said to be acquaintances.

All four murders are unsolved.
---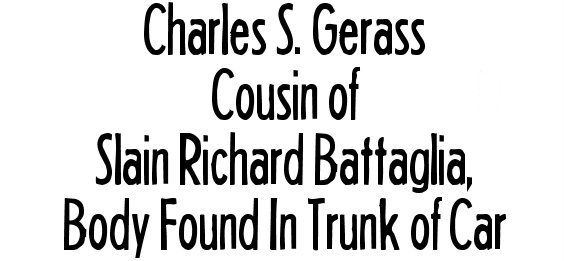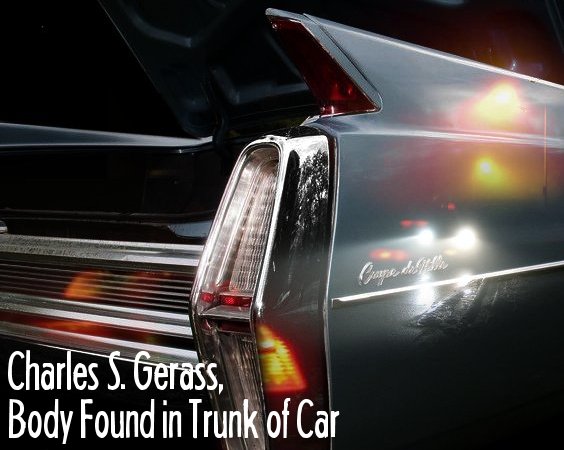 Tonawanda Man Found Slain in Car
BUFFALO September 23, 1965(AP)—The trussed and bullet-punctured body of a 36-year-old real estate salesman, cousin of a 1959 slaying victim, was found Wednesday night in the trunk of an automobile.
Charles S. Gerass, of Town of Tonawanda, had been shot twice in the head and chest, medical examiner James N. Schmidt said today.
Gerass also had been beaten.
His hands and feet were tied with a clothesline.
His body was found by an uncle, Cosmo. L. Battaglia, of Buffalo and a Town of Tonawanda policeman, in the parking lot of the Sheridan Plaza, Town of Tonawanda.
Battaglia, a tavern-owner, was the uncle of Richard R. Battaglia, 29, who was shot to death near a Buffalo alley May 23, 1959. That slaying has not been solved.
Police said Gerass probably was killed between 7 p.m. Tuesday, when he left home for an appointment and midnight.
The automobile, registered to Gerass' wife, Joan, was spotted by a policeman in the parking lot Tuesday night.
The keys were in the ignition.
Police said Mrs. Gerass was notified but told them she thought her husband probably was in the area.
Battaglia went to the lot Wednesday night looking for the car. He approached the policeman, on duty in the lot, and together they opened the trunk.
---

Corpse of Victim Put in Car Trunk
Police have been unable so'far to discover any motives for the gang-land-type slaying of a Town of Tonawanda real estate salesman and father of two children who was described by his wife as having "many friends."
The victim was identified as Charles S. Gerass, 36, of Town of Tonawanda, whose body was discovered in the trunk of his wife's car last night at the Sheridan Plaza.
He apparently was murdered sometime Tuesday night.
In police memory, the last murder in the town was in 1949. Officers said this was the first apparent gangland type slaying reported in the township.
The body, bound hand and foot with a clothes line, was found shortly before 11:20 p.m. It was stuffed into the trunk of a blue 1964 Cadillac with the victim's face pushed up against the riser, or wall behind the rear seat of the car.
Police believe Mr. Gerass was slain sometime between 7 p.m. and midnight Tuesday.
The body apparently lay, concealed in the trunk of the Cadillac all day yesterday while hundreds of persons parked and shopped in the plaza.
"There were two bullet holes in the body. One in the head and the other in the upper part of his body," Det. Lt. Lawrence A. Hoffman said.
Patrolman Thomas Keleher of Town police had seen the car parked at the plaza location at the rear of the Loblaw store between midnight and 1 a.m.
Wednesday. The car is registered to Mrs. Joan M. Gerass, 32, the victim's wife.
Mrs. Gerass told police during a routine license-plate car check Wednesday that she was not alarmed because her husband had been home for dinner at 7 p.m. Tuesday. Mr. Gerass often was away from home for long times on real estate deals, Mrs. Gerass explained.
However, when Mr. Gerass didn't return home by late yesterday, his wife called Mr. Gerass' uncle, Cosmo J. Battaglia of Buffalo, to help locate her husband, Lt. Hoffman added.
Mr. Battaglia reportedly has an interest in the Tender Trap, a Buffalo tavern at 372 Busti Ave.
Patrolman Kenneth Smith of Town police was on a routine cruise at the plaza last night near the grocery store, when he was summoned by Mr. Battaglia who had located the car and found the car keys on the front floor.
The officer and Mr. Battaglia then opened the trunk.
Officer Smith radioed police headquarters and alerted Police Chief Robert N. Cummings and Medical Examiner James N. Schmitt. District Attorney Michael F. Dillon joined the investigation at 1:15 a.m. and worked with police until shortly before 7 a.m.
Although the body had earmarks of a gangland slaying, according to District Attorney Dillon, neither he nor police were able to discover a motive for the man's death. Mrs. Gerass told investigators that her husband had many friends.
Rips in the dead man's clothing indicated the body had been dragged before it was pushed into the car trunk. One of the dead man's shoes was on the body and the other in the car trunk.
"I wouldn't say he was brutally beaten, but the condition of his clothing and body indicated a terrific struggle before he was slain," Lt. Hoffman noted.
After arriving at the plaza where the body was found, Police Chief Cummings, Lt. Hoffman, Det. Robert J. Mo Donough, Patrolmen William Ryan, Eugene Ayler, Harry Thorp and William Walters immediately barricaded the area.
Dets. Kenneth C. Sweeney, Loris H. O'Quinn, Joseph D. Pasieka and Richard F. Snyder joined in the morning-long investigation. Dr. Schmitt, the medical examiner, had the body removed to the Erie County morgue for a post mortem examination set for 1 this afternoon. The autopsy is expected to determine how long Mr. Gerass was dead.
Police investigations revealed that Mr. Gerass had resided Town of Tonawanda. He had been charged twice in Kenmore with traffic violations.
Early phases of the police inquiry failed to develop any underworld ties with the dead man.
Father of two children, Mr. Gerass had been employed for two months as a salesman for L.J. Migliore Realtors, 785 Englewood Ave., Town of Tonawanda. He had been with the former Troy-Del realty firm at Snyder and with Albano Realty Co., 2564 Elmwood Ave., Kenmore, during an earlier period of his sales career.
The area of the plaza parking lot where the murder victim's car was parked will continue to be roped off pending further investigation, Det. Lt. Hoffman said. A police car will be there as long as the ban is in effect.
Several law enforcement agencies in the area, including State Police and the City of Tonawanda and Kenmore Police Departments, have offered their assistance in the investigation.
Police found business cards, personal papers, the victim's wrist watch, a cigarette case, and a tie tack on the body but no money.
The victim's wife told police her husband did not carry a wallet She said he told her before he left the house Tuesday night that he planned to get a check cashed.
Mrs. Gerass said her husband explained only that he had "an appointment" when he left home Tuesday.
Det. Lt. Hoffman said police will continue to work overtime "until a lot of points are cleared up."
---

Six gangland-type murders, not counting that discovered last night in the Town of Tonawanda, have occurred since 1958 in the Niagara Frontier without a single case ever being solved.
The Twin Cities served as a dumping ground or actual site of four murders. The body of a fifth victim was discovered in Lackawanna.
The sixth body was discovered in Buffalo.
Four of the murders occurred in 1958, one in 1959 and one in 1963.
The slaying of Frank Aquino, 28, of Buffalo, on Sept. 13, 1958, touched off an outbreak of gangland slayings. His body was found crammed under the dashboard of his mother's 1958 Lincoln convertible in a residential area of Lackawanna. Lackawanna Police Chief Joseph Deren today said the case is still classified as "unsolved and open."
Brother slain four days after the Aquino murder, the nude and mutilated body of his brother, Fred ("The Fox") Aquino, 25, also of Buffalo, was discovered in a field in the City of Tonawanda, off Two Mile Creek Road between Niagara and Fletcher Streets. Chief Oldenburg said the case also is unsolved but it has been established that the actual murder took place elsewhere and the body was dumped in Tonawanda.
Almost a month went by before the third slaying was discovered Oct. 14, 1958. The victim was Arthur DeLuca, 23-yearold bricklayer of Niagara Falls, whose trussed, fully-clothed body was discovered stuffed in the trunk of his 1957 white Cadillac parked on the Marion Street side of a used-car lot. Police Chief Grimaldi said the case is unsolved.
3 Men Vanish
In that same period, three Falls men known to have been associated with the slain men and the underworld element in the Falls, disappeared and their whereabouts remain unknown, Niagara Falls Chief of Detectives M. William Wilson said.
They are Angelo J. (Rico) Cicatello, 32, listed as missing Nov. 28,1958; Guido D'Antuono, 29, reported missing March 3, 1958, and Leo J. Bartolomei, 23, D'Antuono's companion, reported missing the same day. Police information indicates that they went by plane together to New York City. Police said there never has been any evidence that there was a connection between the murders and the disappearance of the trio.
On May 23, 1959, the body of Richard R. Battaglia, 29, was discovered dangling part way out of an automobile parked in an alley near Niagara Street and Pennsylvania Avenue in Buffalo.
He had been shot to death.
A four-year lull occurred before the next violent death in the area. Louis J. Scalzo, 32, of North Tonawanda, a restaurant operator in Buffalo and a former city sealer of weights and measures in North Tonawanda, was gunned down April 20, 1963, about 4:30 a.m. in the drive-way of his home.
Chief Grimaldi said this case also is unsolved "but still open."
He said it has never been established that there was any connection between the Scalzo murder and the other slayings.
---

November 26, 1965 A 38 caliber revolver found in a storm sewer in Tonawanda Tuesday, which could prove to be a possible clue in the Gerass murder case, still is undergoing ballistics tests at FBI headquarters in Washington, D.C., Town of Tonawanda police said today.
The revolver, with two shots apparently fired, was discovered in the catch basin of the sewer in the area of Morgan and Bouck Streets by Clarence H. Will, and Vincent Egri, Tonawanda, both city employees.
The gun could provide a major break in the Gerass murder case according to Town of Tonawanda Police Det. Lt. Lawrence A. Hoffman Jr. who has conducted an intensive investigation.
The body of Charles S. Gerass, of Town of Tonawanda,. was discovered at 11:30 p.m. Sept. 22 in the trunk of his car which was parked in a Sheridan Plaza parking lot.
Gerass, a realtor who had failed to keep an appointment to show a Town of Tonawanda house to a prospect at 9:30 p.m. Sept. 21, was shot through the head by one bullet which fractured his skull. Another bullet entered his body in the right side of the chest and was recovered near the lower spine.
Rope burns around the dead man's neck, a broken nose and superficial scratches on his back and stomach, indicated that Gerass had been dragged face down.
The condition of the body led police to believe it was a gangland slaying.
Gerass was discovered by his uncle, Cosmo J. Battaglia of Buffalo, who also was the uncle of Richard R. Battaglia, 28, who was found shot to death in 1959 in Buffalo in a gangland manner.
Town of Tonawanda Police Det. Joseph Pasieka is in charge of the case until Monday when Det. Lt. Hoffman returns to work.
Tonawanda Police Chief Oldenburg said he and Lt. Hoffman met Wednesday to discuss several points of the case.
The two police officials also virited the Bouck - Morgan section where the gun was found and then went to areas where the town and city meet in an effort to form additional opinions about the slaying.
---

December 6, 1965Chief James Oldenburg of Tonawandapolice, and Det. Lt. Lawrence A. Hoffman, and Dets. Kenneth C. Sweeney and Loris H. O'Quinn of Town police reached this conclusion Wednesday at a conference in Tonawanda attended by FBI representatives.
Chief Oldenburg today said his department is stepping up its work in tracking down the prior use of the weapon. But this work will be in collaboration with the FBI, Town of Tonawanda and New York City police on a teamwork basis.
"It has definitely been established that this gun that the FBI laboratories tested last month was taken from a guard during a $23,000 holdup at a pier in New York City in August, 1963,"
Chief Oldenburg said.
The Tonawanda police chief said the police agencies are cooperating with the idea that the same weapon may have been used in the Gerass murder. Mr. Gerass was a real estate salesman whose body was found on Sept. 22 in the trunk of a parked car at the Sheridan Plaza in the Town of Tonawanda.
The victim had been shot twice, and one of the bullets used in the slaying was recovered in an autopsy. An FBI laboratory test showed the slug was fired from a Colt weapon, one which causes a bullet to twist to the left or counterclockwise before it strikes, The weapon recovered in Tonawanda is a Colt revolver.
"Since this gun was found in Tonawanda, we are obligated to check out its back history," Chief Oldenburg said. The gun apparently was found between its theft in 1963 and its re-registration in 1965.
Details are still being checked out, Chief Oldenburg said. "We have found it originally was registered to a man in New York City, a guard for a protective agency at a pier in New York's waterfront.
"In August of 1963, a gun was taken from the guard during a $23,000 payroll robbery. A check on the serial number of the gun in our case shows it was definitely the gun that was taken from the guard," Chief Oldenburg said.
"There was a difficulty in the next phase of our investigation, its re-registration in 1965. At this point, I can only say that there was a procedural error on a form used in its re-registration, one which eventually turned out to be all right," Chief Oldenburg added.
The FBI office in New York City assigned agents to work with New York police and police from Tonawanda and the Town of Tonawanda in the New York City investigation. Dets. Sweeney and O'Quinn of Tonawanda town police supplied much of the preliminary facts for the joint investigation.
The 1963 robbery in New York City took place in New York's Precinct 16, one that Life Magazine publicized for police work on the waterfront. Chief Oldenburg said police of that precinct, the FBI and his department will be working closely with Town of Tonawanda police in tracing the gun from New York to Tonawanda.
"I can't say too much for the work done by Town police in this case. It has been exceptional and very helpful, and we'll be working closer than ever so far as the Gerass case is concerned," Chief Oldenburg said.

---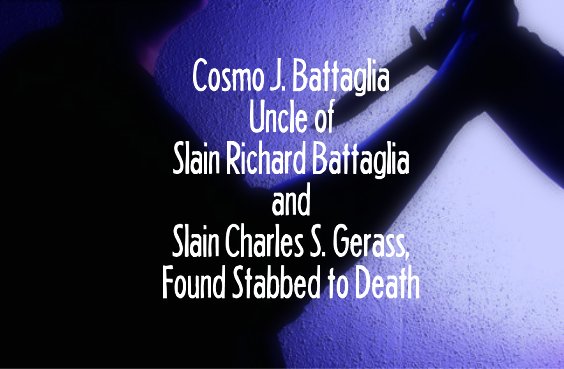 ---

Buffalo, NY November 13,1973 The victim of a stabbing death discovered yesterday afternoon in Buffalo was the uncle of a Town of Tonawanda man found murdered gangland-style in the town eight years ago, town police said today.
Cosmo J. Battaglia. 53, whose nude, blood-spattered body was found in his home yesterday, was the uncle of Charles S. Gerass, of Town of Tonawanda. whose body was found in the trunk of his wife's car at the Sheridan Plaza on Sept. 22. 1965.
The murder has never been solved.
Gerass was 36 when he was murdered.
Battaglia also was the uncle of Richard B. Battaglia, an alleged underworld figure gunned down in an alley on the west side of Buffalo in 1959.
The body of Cosmo Battaglia was found by his brother. William, who had been alerted that something was 'wrong' at his brother's house by an anonymous telephone call.
Police said they found Battaglia's body lying in a ransacked dining room of his home in Buffalo. He had been stabbed several times, but no weapon was found, according to police.
The two Battaglia brothers owned the Tender Trap Tavern and were reported to be involved in an attempt to open duty-free liquor store near the Peace Bridge, which connects Canada and this country.
The Gerass body was found with two bullet holes in it. It was bound hand and foot with a clothes line and found stuffed in the trunk of his wife's 1964 Cadillac.
Town police discovered the body after the victim's wife, Mrs. Joan M. Gerass, notified them her husband was missing.

---

IN THE NEWS
POLICE OFFICERS
Chief Executives
Police Officers
History of Police Woman
History of Black Police Officers
Officers Memorial
Precinct 16
S.W.A.T.
Cold Case Squad
Underwater Recovery Team
Mounted Division
Motorcycle Squad
K-9 Corps
Communications
Band and Drill Team
Cartography Unit
Printing Department
Pawnshop Squad
History Overview
Police Precincts
Mutual Aid
World War II
Desert Storm
Detectives 1980
The Blue Ribbon Gang
The Mystery Perfume Case
The Felons Fang
Contract For A Hit
An Eye For Murder
The Boarder Bandits
Detective William Burns