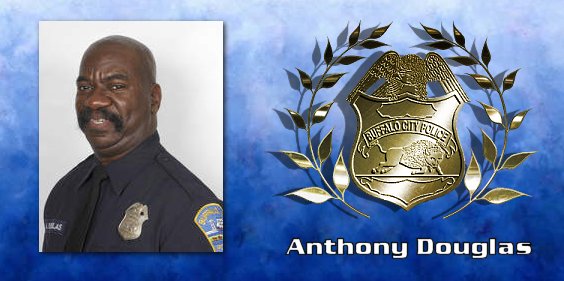 Police Officer Anthony Douglas

BUFFALO, N.Y. (WIVB) - Officer Anthony Douglas, a 29-year veteran of the Buffalo Police Department, passed away on Christmas night at ECMC. The father of two was off-duty when his vehicle crashed earlier this month.

Described as a kind man, and the first to help when someone was in need, 57-year-old Officer Anthony Douglas died at ECMC on Christmas about a week after an off-duty car crash. His daughter says he was a strong man.

Kishih Douglas said, "He was a great dad. He always took care of his family, always protected us."

His brothers in blue now stand in solidarity after Douglas' passing Sunday night. Father Joseph Moreno, a friend of Tony's who often led him and his fellow officers in prayer, said, "It's a very sad day for the police family in western New York."

Father Moreno says the veteran officer always felt lucky and blessed to be part of the department.

"Whenever we lose a loved one, it's very difficult for everyone involved, especially in emergency services. Because when we lose a police officer or firefighter, whether it's on duty or off duty, everyone is connected, everyone is related, you know there's a clsoe family bond there," explained Father Moreno.

Visitation will be held Thursday, December 29th from 2-4pm for friends and family will be present from 7-9pm at the Amigone Funeral Home on Delaware and West Ferry in Buffalo.

Wake services will be held at True Bethal Baptist Church at 10am Friday, December 30th on E. Ferry. The funeral service will follow at 11am.
---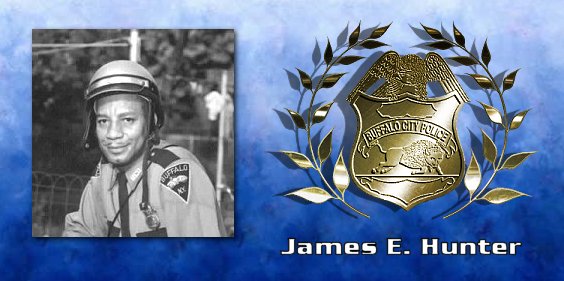 Detective Sergeant James E. Hunter (Retired) entered into rest November 25, 2011. Relatives and friends may visit the LOMBARDO FUNERAL HOME (Northtowns Chapel), 885 Niagara Falls Blvd. near Eggert/Sheridan Dr., Thursday 11 AM-1 PM for a gathering in James' memory. Interment Forest Lawn Cemetery. Mr. Hunter served in the US Navy and was a retired Buffalo Police Detective Sergeant . Online condolences may be made at

www.lombardofuneralhome.com
---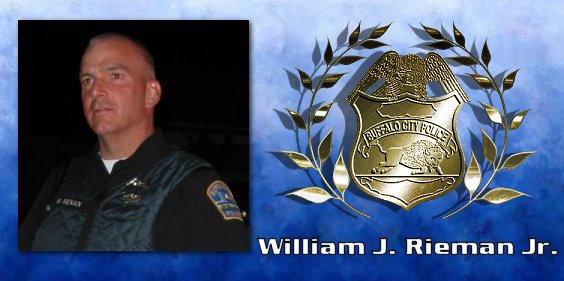 | | |
| --- | --- |
| | William J. Rieman Jr. November 17, 2011 Beloved husband of Kathleen (Salcedo) Rieman; dear father of Courtney E. and Colin W. Rieman; the son of the late William J. Rieman, Sr. and Nancy (Ransford) Rieman-Fay; brother of Kathleen (David) Burroughs, Maureen Brinkworth, Thomas (Amandah) Rieman, Colleen (Edward) Warren. Friends may call Saturday, 6-9 PM and Sunday 2-4 and 7-9 PM at JAMES W. CANNAN FUNERAL HOME, INC (Southtowns Chapel), 3155 Orchard Park Rd. A Mass of Christian Burial will be held at 9:30 AM at St. Gabriel's Church (please assemble at church.) Donations may be sent to the Madison McCarthy Cardiac Care Coalition for Children, P.O. Box 485 Derby, NY 14047. Billy retired from the Buffalo Police Department. |
---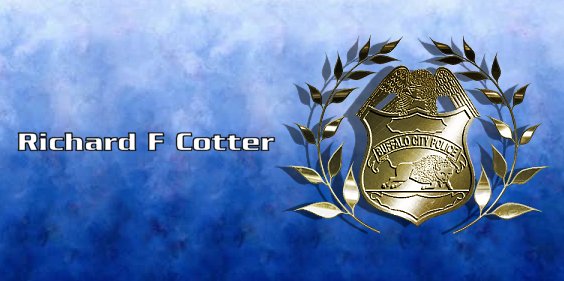 Detective Richard F. Cotter

COTTER - Richard F. October 20, 2011, beloved husband of Kathleen (O'Donnell) Cotter; loving father of Margaret Mary Hummel, Kathleen Ferrick-Davidson, Richard F. Jr. (Donna), Colleen Ann, Brian (Dayle), and Edward (Kathleen) Cotter; grandfather of Cully Ferrick, John, Luke Davidson, Christina, Richard III, Meredith, Taylor Cotter, and the late Catherine Hummel and Dustin Ferrick; great-grandfather of Grady, Jordan and Clare; brother of the late Edward M., Agnes C. McKenzie, Rita Hoefner, John, Helen Curry and Thomas "Tucker" Cotter; brother-in-law of Mary Jane Cotter, Thomas (Nancy) O'Donnell and Eugene (late Theresa) Luthringer; survived by many dear nieces and nephews; special friend of Thomas F. Higgins and the late Howie Gunther. Funeral from the CHAS. F. MCMAHON 982 Abbott Rd. Monday at 9 AM followed by a Mass of Christian Burial at St. Martin of Tours RC Church at 9:30. Friends may call Saturday and Sunday 4-8 PM. Memorials may be made to the Edward M. Cotter Fire Boat Restoration Fund.
---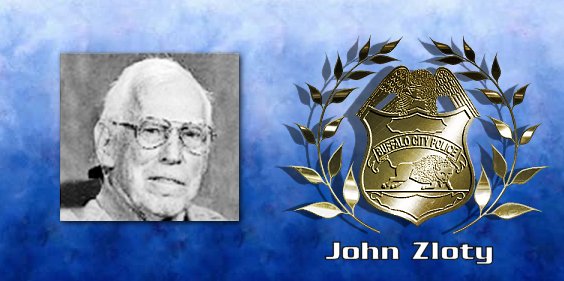 Lieutenant John Zloty

ZLOTY - John October 14, 2011. Beloved husband of the late Charlotte (nee Powell); devoted father of Harriet (Alvin) Pustulka, John M. (Sally), Richard (Janice) and Robert (Stacey) Zloty; father-in-law of Anne Zloty; loving grandfather of 14 and great grandfather of 13; survived by sisters Marie Kuzniarek, Anna Bos and Carolyn Nadonly. Family will be present to receive friends Saturday 7-9 and Sunday 2-4 and 7-9 PM at the PIETSZAK FUNERAL HOME, 2400 William Street (near Harlem) where services will be held Monday at 10 AM and at St. David's Episcopal Church (3951 Seneca St., West Seneca, NY) at 11 AM. Memorials may be made to St. David's Episcopal Church Capital Fund or Hospice Buffalo, Inc. 225 Como Park, Cheektowaga, NY 14225.
---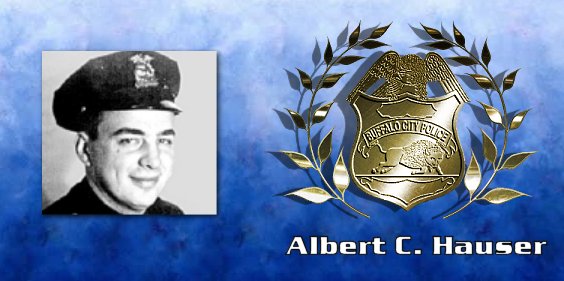 Albert C. HAUSER Of Buffalo, NY, September 11, 2011, beloved husband of the late Bernadette Stefanick

and the late Ann Michalakes Hauser; dearest father of Gerard (Jean), Thomas (Sharon), Raymond (Lisa), Maureen (Timothy) Loftus, Barbara Hauser, Margaret Mary (Mark) O'Brian and Patricia (John) Petricca; loving grandfather of 12 grandchildren and four great-grandchildren; predeceased by brothers and sisters. Friends may call Tuesday 7-9 PM and Wednesday 4-8 PM at the PAUL A. KLOC BLOSSOM CHAPELS INC., 4680 Clinton St., (corner of Borden Rd.), West Seneca, (668-5666), where funeral will be held Thursday morning at 8:30 and a Mass of Christian Burial from St. Thomas Aquinas Church at 9:30 AM. Friends are invited. Albert was the Chief Photographer for the Buffalo Police Department for over 40 years.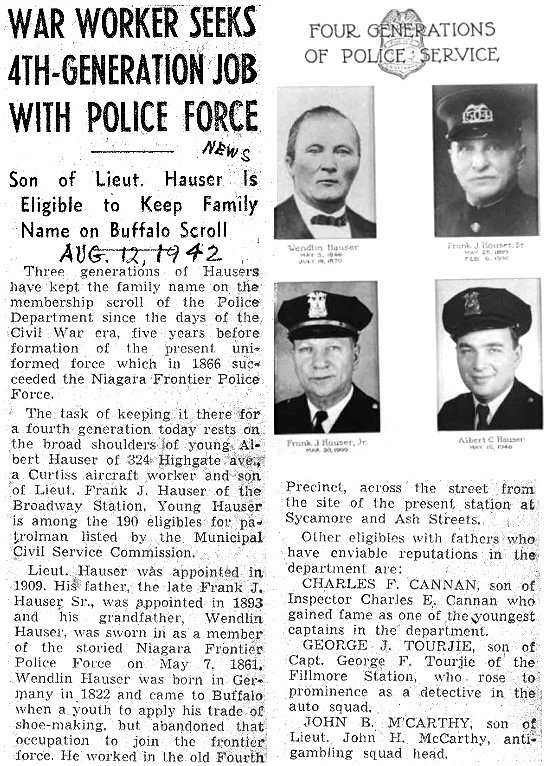 ---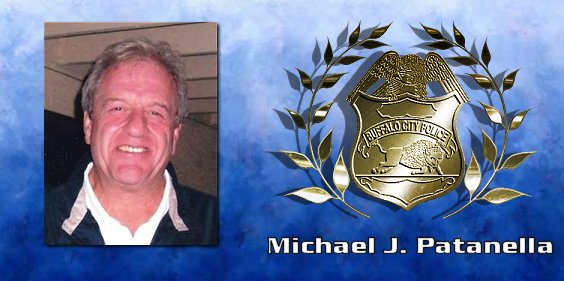 Michael J. Patanella, August 25, 2011, a retired Buffalo police officer, died Thursday at Erie County Medical Center after a nine- month battle with lung and brain cancer. He was 58.

Born and raised in Buffalo, Mr. Patanella lived in Alden since 1995.

He attended Holy Angels Grammar School and was a 1970 graduate of Grover Cleveland High School, where he was a star football player. Mr. Patanella was a member and MVP of the 1970 All High football team.

In 1972, he joined the Buffalo Police Department, initially as a patrol officer, and later with the Motorcycle Unit, the Accident Investigations Unit and the department's Drunken Driving Task Force. He retired from the police force in 2002.

Mr. Patanella was a member of the Retired Buffalo Police Officers's Clam Club. He was voted into the Buffalo Public School's Harvard Cup Hall of Fame in 2011.

He is survived by his wife, Susan; his mother, Eleanor; and three brothers, Justin, David and Joseph.
---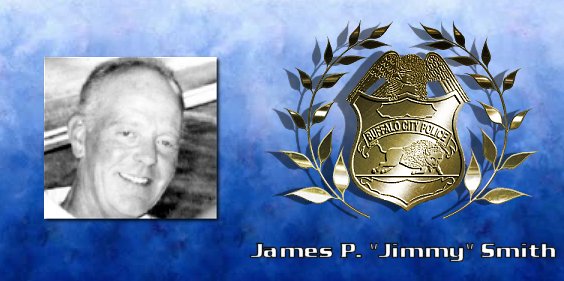 SMITH - James P. "Jimmy" August 20, 2011, beloved husband of Ann M. (nee Campanile) Smith; cherished father of Matthew (Colleen) Smith, Renata (Mark) Doerr, Marie (Jeremy) Voorhees and Gina Smith; loving grandpa of Evan, Dominic, Elise, Benjamin and Noelle; dear son to Marie (late Henry) Smith; also survived by seven siblings, 35 nieces and nephews and 22 great-nieces and nephews. Relatives and friends may call Monday 7-9 PM and Tuesday and 2-4 and 7-9 PM at the CUSACK FUNERAL HOME, 250 Orchard Park Rd, W. Seneca, 828-1846 (same location as Sieck & Mast Funeral Home), where you are invited to a Mass of Christian Burial at St. Martin's of Tours Church on Wednesday at 9:30 AM. (Please assemble at church). Jimmy was a retired Buffalo Police Lieutenant, who was shot in the line of duty, also served in operation Desert Storm as a U.S. Coast Guard Reservist, and the owner of A.J. Pool Supplies. He also belonged to American Legion Post 1477 and Col. Weber
VFW
Post 898
---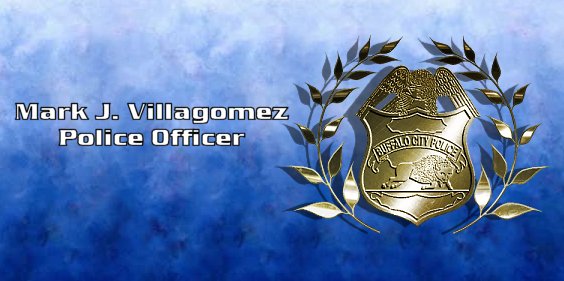 | | |
| --- | --- |
| | Mark Joseph Villagomez of Buffalo, entered into rest suddenly June 1, 2011, beloved father of Devin, Leah and Casey Villagomez; loving son of Ronald and Marilyn (nee Szaras) Villagomez; dear brother of Michael Villagomez, Monty Villagomez and Monique (Walter) Geising; cherished uncle of Michael, Josef, Noah, Jake and Cameryn; also survived by relatives and many friends. |
---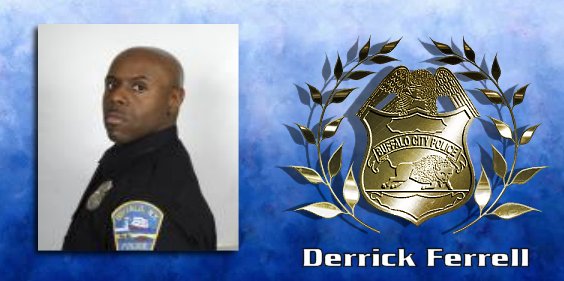 Fellow Police Officer Derrick Ferrell passed away May 14, 2011 May God rest his soul in peace.
Derrick Ferrell, police officer active in church
Buffalo News Published:May 18, 2011
For Northwest District Police Officer Derrick "D. J." Ferrell, the last 16 months wasn't about losing a hard- fought battle against pancreatic cancer. It was about winning an eternal reward.
That's how Mr. Ferrell, 40, a 12-year decorated police officer, husband and father to two young daughters, viewed his prognosis. It's how this soft-spoken, kindhearted man who embodied a saint's approach to life and death comforted others who struggled with it.
"He's calling me to go though this for a reason," Mr. Ferrell told The Buffalo News last spring at a North Buffalo benefit held in his honor. "I'm just trusting God to use me for his glory."
Mr. Ferrell, who lived in Cheektowaga, died Saturday under the care of Buffalo Hospice.
He leaves his wife, Nekita; two daughters, Hailey, 6, and Noelle, 2; parents, Willie and Flossie; sister, Melody Belk; and a family of brethren from his life in law enforcement and at his church, Word of Life Ministries in Niagara Falls, where Mr. Ferrell served as a deacon and praise and worship singer.
"Loyal, kind, caring, loving, friendly and uplifting," were among the traits fellow officers used to describe him.
"If you wanted the perfect police officer, you'd want him," Cheryl Slomka, an officer in Mr. Ferrell's platoon, said at his benefit. "He'd do anything for you."
Alicia L. Scott of Niagara Falls, a close friend of Nekita Ferrell, called Mr. Ferrell "a loving a devoted husband, father, son, uncle and brother."
"For those who knew him or of him, he left an impact of faith and love in their lives," Scott said.
Mr. Ferrell was diagnosed with stage 4 pancreatic cancer, the most serious form of the deadly disease, early last year, not long after first visiting his doctor with a complaint that he "couldn't eat without feeling full." He was told he had three to six months to live.
Born in Buffalo, he graduated from Kensington High School in 1989 and worked as a state corrections officer before joining the Buffalo Police Department in 1999.
Mr. Ferrell's law enforcement heroism were well-chronicled in the pages of The Buffalo News, most notably a May 13, 2009, incident in which he, with two fellow officers and four Buffalo firefighters, resuscitated 23-month-old Izaiah White, who suffered a severe allergic reaction to medicine.
Although little Izaiah died four days later in Women and Children's Hospital, his family credited the heroic first responders with giving him a chance to live. Mr. Ferrell and the others were later honored by Mayor Byron W. Brown and then-Commissioner H. McCarthy Gipson. The State Legislature also honored him in a legislative resolution.
Services for Mr. Ferrell will be at noon Friday in Mount Olive Baptist Church, 701 E. Delavan Ave., after an hourlong visitation in the church.
A fund to help Mr. Ferrell's wife and daughters has been established at the Buffalo Police Federal Credit Union, 851-4490.
—T. J. Pignataro
Heroes of Buffalo PD save boy who stopped breathing Watch Video Click Here
---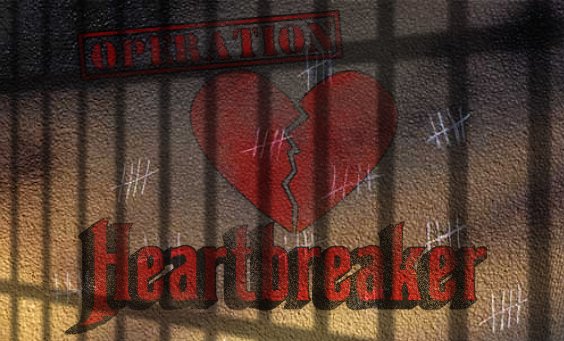 Drug Raids Earlier This Week Only the Beginning, Brown Says
By Maki Becker
BUFFALO NEWS STAFF REPORTER Published: February 18, 2011, 2:57 PM
Fifty-four arrests. Eleven firearms. Almost $10,000 in cash. Five pounds of marijuana and 5.5 ounces of crack and powder cocaine, along with some heroin and assorted prescription pills.
That was the result of a series of drug raids conducted Monday and Tuesday across the city.
Buffalo police teamed up with SWAT teams and K-9 units from around the region to execute 101 search warrants at properties where neighbors and other witnesses had reported drugs were being sold.
Mayor Byron W. Brown said in a news conference today that the raids were only the beginning in what will be a sustained effort to fight drug-related crimes in the city.
"If you are a criminal in the City of Buffalo, if you are a drug dealer in the City of Buffalo, if you are someone who is trying to commit crime in this community, you'd better find a new line of work, or you're going to jail," Brown said.
The noon news conference at police headquarters was clearly part of the strategy in getting the word out that drug criminals will be targeted.
The mayor was flanked by police brass as well as representatives from a dozen other agencies as he spoke with reporters from a podium. Reporters were shown videos of the raids and shown photos of the seized money, guns and drugs and even given DVDs to use in their coverage. The raids were even given a catchy name: "Operation Heartbreaker." The raids began on Valentine's Day.
The mayor assured that anyone who has complained about a property where drugs were being sold which hasn't been raided yet should "just be patient. We're not going to stop. We're going to keep going."
City officials also emphasized the unprecedented scale of the operation.
"One hundred one warrants over a 48-hour period is unheard of," said Police Commissioner Daniel Derenda.
He pointed out that in 2005, before Brown took office, 135 search warrants were executed the whole year.
From February 2010 to this year, more than 800 have been executed, including the 101 done this month.
---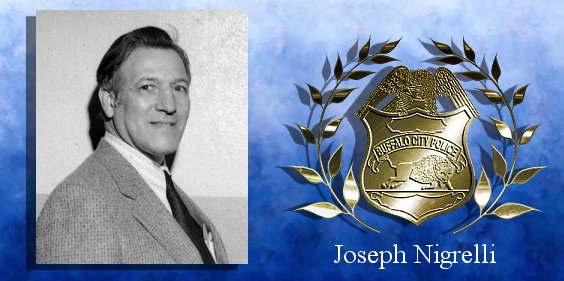 Joseph C. Nigrelli, Buffalo police detective sergeant

Published: BUFFALO NEWS February 2, 2011, 12:00 AM

Joseph C. Nigrelli, a Buffalo police detective sergeant with 39 years on the force and a Korean War Army veteran, died Sunday in Mercy Hospital after a brief illness. He was 84.

Mr. Nigrelli was a cornerstone in a South Buffalo family that has produced some 25 sons and daughters who entered the law enforcement profession.

A lifelong city resident, Mr. Nigrelli was a brother-in-law of Buffalo police Lt. Michael J. McCarthy Jr., who died Jan. 21. They were close companions for more than half a century, relatives said.

"My dad was respected by his peers for his unwavering support and friendship. There was not anyone who had a bad word to say about Joe Nigrelli," said New York State Police Capt. Michael

P. Nigrelli, one of Mr. Nigrelli's four sons who all followed in their father's career footsteps.

Even Mr. Nigrelli's only daughter, Susan, a hairstylist, got into the act indirectly by marrying State Trooper Joseph Danahy.

"My father was the patriarch of a proud and enduring tradition in police work," said Michael Nigrelli, who heads State Police operations on the Western New York portion of the Thruway.

In 1957, as a young patrol officer downtown, Mr. Nigrelli was working with his future father-in- law, Michael J. McCarthy, though he had no idea at the time. Mr. Nigrelli met Margaret A. Mc- Carthy at Crystal Beach, Ont., which, at the time, was the place to be for young people.

On Jan. 21, when Mr. Nigrelli learned that Michael Jr., Margaret's brother, had passed away after a lengthy illness, he was devastated by the news.

"You couldn't have found two guys who approached police work more differently. Mike was a street cop who went out there. My father was the behind-the-scenes type of guy, but they shared a deep and mutual respect for one another, even though they looked at the job differently," Michael Nigrelli said.

Another of Mr. Nigrelli's sons, Steven A. Nigrelli, is also a captain in the State Police, serving as the zone commander at the Clarence Station. A third son, Peter Nigrelli, is a Buffalo police officer in the South District. The fourth son, Joseph Nigrelli, works in Indianapolis at a county police dispatching center.

It may sound sort of unusual, but Mr. Nigrelli's hobby was memberships in police organizations both when he was a working officer and throughout retirement.

He was a member of the Buffalo Police Department's Detective and Detective Sergeants Association, the International Police Association, the Italian-American Police Association, the Western New York Police Association, the Western New York Association of Retired Police Officers and the Buffalo Police Benevolent Association.

"He served as an officer in these groups for years. He believed in the fraternal connections that these organizations created among people," Michael Nigrelli said.

Unlike many retired officers, the golf course and travel held no interest for Mr. Nigrelli.

"It was police work. That was his hobby," Michael Nigrelli said.

In 2008, one of the high points in retirement occurred when Mr. Nigrelli was named the "Italian- American Society—Buffalo Bisons Man of the Year."

A Mass of Christian Burial will be offered at 11 a. m. Thursday in Holy Family Catholic Church, 1880 South Park Ave. Prayers will be said at 10:15 in Nightengale Funeral Home, 1884 South Park Ave.


DET. SGT. JOSEPH NIGRELLI IS THE PROUD FATHER OF P.O. PETER NIGRELLI (A DISTRICT), NYSP CAPTAIN MICHAEL NIGRELLI, NYSP CAPTAIN STEVEN NIGRELLI AND FATHER IN LAW OF NYSP TROOPER JOSEPH DANAHY. DET. SGT. NIGRELLI IS ALSO THE UNCLE OF BPD PO ERIN MCCARTHY-HARRINGTON (MRU), BPD CAPTAIN MICHAEL MCCARTHY (DETECTIVE DIVISION), ECSD DETECTIVE GREGORY MCCARTHY, ECSD SEAN MCCARTHY AND BPD DETECTIVE MARK LAUBER (HOMICIDE). SGT. NIGRELLI IS THE SON-IN-LAW OF RETIRED DESK LT. MICHAEL MCCARTHY (DECEASED), BROTHER-IN-LAW OF RETIRED BPD LT MICHAEL MCCARTHY (DECEASED) BROTHER-IN-LAW OF RETIRED DETECTIVE PATRICK MCCARTHY (DECEASED), BROTHER-IN-LAW OF RETIRED PO DAVID O'KEEFE. RELATIONS TO ALSO INCLUDE RETIRED BPD INSPECTOR JOHN BRILL, RETIRED BPD CHIEF ED HEMPLING, RETIRED BPD PO JOSEPH BUCKLEY, RETIRED BPD CAPTAIN JOE O'SHEI, RETIRED PO JOHN LAWSON (DECEASED) BPD LT. GARY O'SHEI (C), BPD DETECTIVE DEBORAH BUYERS (D) AND BPD PO ADAM O'SHEI (C).

DETECTIVE SERGEANT NIGRELLI PROUDLY SERVED THE BPD FOR 39 YEARS AND WAS A PBA DELEGATE FOR 30+YEARS. MAY GOD REST HIS SOUL.
---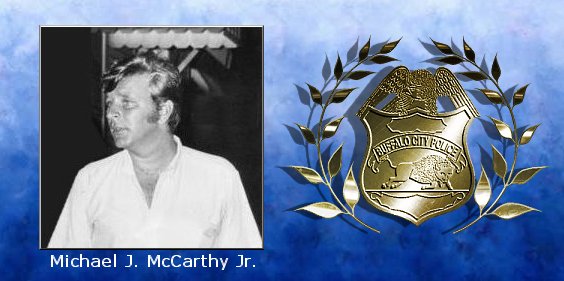 Michael J. McCarthy Jr., heroic cop who served in Buffalo and overseas

May 8, 1939—Jan. 21, 2011

By Dan Herbeck Buffalo News

Michael J. McCarthy Jr., a heroic cop who survived many dangerous adventures with the Buffalo Police and in war-torn hot spots in the Middle East, died Friday. He was 71.

The retired police lieutenant died in the Orchard Park home of a family member, where he was under hospice care after a long fight with cancer.

Lt. McCarthy, who reminded fellow officers of actor Clint Eastwood, worked with the Buffalo Police for more than 30 years, retiring in late 1994. He then worked a couple of years in private security before beginning a 12-year career as a private security consultant and investigator, working for the United Nations and others in Iraq, Bosnia, Liberia and other countries.

He was widely respected by fellow cops, and 25 of his family members—including his three sons and his daughter—followed him into law enforcement.

"Ever since I became a rookie officer, I've had people come up to me and say, 'Your dad was the best cop I ever worked with,' " said one of his sons, Michael J. McCarthy, now a captain in the Buffalo Police. "He set a high standard for the rest of us in the family to try to live up to."

"If I was a citizen in trouble on a street corner in Buffalo, Mike was exactly the cop you'd like to see coming around the corner to your rescue," said Jim Watson, a longtime reporter with the Buffalo Courier-Express.

Lt. McCarthy met with a reporter from The Buffalo News last month and spoke about his adventures.

"As a police officer, I always wanted people on the street to give me one of two things—respect or fear," he said in a story published last Dec. 19. "I didn't care which one it was."

The son of a city police lieutenant, Lt. McCarthy grew up in the Commodore Perry housing project in Buffalo's Old First Ward and graduated from Father Baker High School.

A Marine Corps veteran, he worked as a longshoreman for several years before joining the Buffalo Police in 1963. Over the next three decades, he won 85 service commendations and almost every heroism award given to Buffalo Police.

One of the awards came in 1968, after he shot and killed a robbery suspect who had killed a fellow officer— and shot Lt. McCarthy's police hat off his head—during a confrontation on Military Road.

Lt. McCarthy spent much of his career as one of the commanders of the city police Special Weapons and Tactics Team.

After retirement, he took his first overseas assignment in 1998, when he was hired by the State Department to investigate war crimes and atrocities in Bosnia.

During his time in Iraq, Lt. McCarthy was once shot in the leg, and was shot at dozens of times. He survived two terrorist bombings at the Iraqi hotel where he was staying, including one explosion that blew him out of his r

oom and sent him careening into steel elevator doors.

Lt. McCarthy was a member of Matthew Glab American Legion Post 1477 in Lackawanna and American Legion Post 123 in Angeles City, the Philippines.

Besides his son, Michael, he is survived by a daughter, Erin McCarthy-Harrington; and two more sons, Greg and Sean; three sisters, Margaret Nigrelli, Anne Lauber and Kathleen O'Keefe; and his ex-wife, Kathleen Higgins.

A Mass of Christian Burial will be celebrated at 10:30 a. m. Tuesday at Our Lady of Victory Basilica, 767 Ridge Road, Lackawanna.

1800's

1910's

1920's

1930's

1940's

1950's

1960's

1970's

1980's

1990's

2000's

2010's
POLICE OFFICERS
Chief Executives
On the Job
Police Officers
History of Police Woman
History of Black Officers
Meet Detective Sergeant Coyle
Meet Detective Sergeant Burns
Meet Patrolman Nicholas Donahue
Buffalo Housing 1980's
Precinct 16
Days Gone By
Underwater Recovery Team
Homicide Cold Case Squad
CSI Crime Scene Investigation
S.W.A.T.
Mobile Response Unit
K-9 Corps
Communications Division
Motorcycle Squad
Mounted Division
Band and Drill Team
Cartography Unit
Pawnshop Squad
Printing Department
Identification Bureau
History Overview
Police Precincts
Mutual Aid
World War II
Desert Storm
Detectives 1980
The Blue Ribbon Gang
The Mystery Perfume Case
The Felons Fang
Contract For A Hit
An Eye For Murder
The Boarder Bandits
Detective William Burns
Birth Of Witness Protection
Murder Gangland Style
Callea Brothers Murder
How America Meets The Mob
Anti-Gambling Crusader Murdered