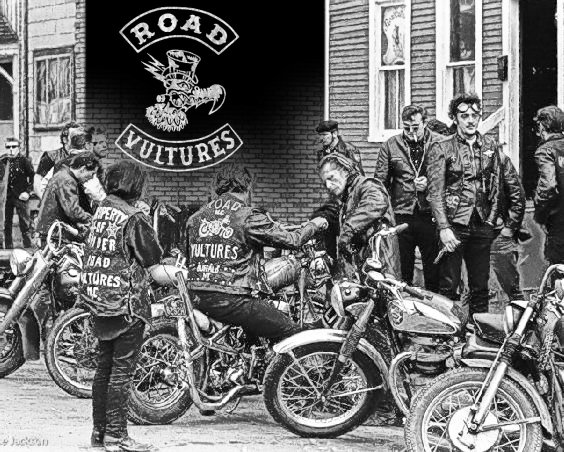 ---
The Road Vultures

Motorcycle Club, Buffalo-based, was formed in 1955 and

was patterned somewhat after

the Hell's' Angels of Northern

California.

Thomas G. Bell was the original Road Vultures Head

Thomas G. Bell was shot to death in a scuffle at 173 Dewitt Street, Buffalo NY

Charles Pfohl, 23,

of Buffalo, a reputed member of

the Road Vultures

, suffered a fatal head

wound when shot by a policeman

in suburban Cheektowaga

during an attempted arrest for

a traffic violation.

Road Vultures

Clubhouse was located at 775 South Ogden Street, Buffalo NY

In 1968 the "Road Vultures Motorcycle Club" became the first chapter of Hells Angles in New York State
---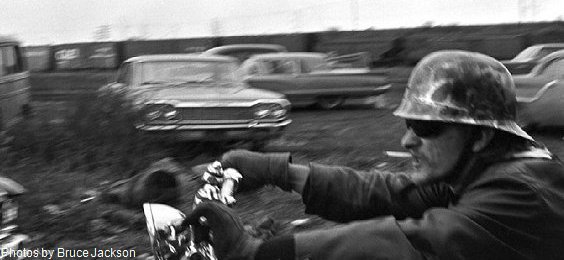 ---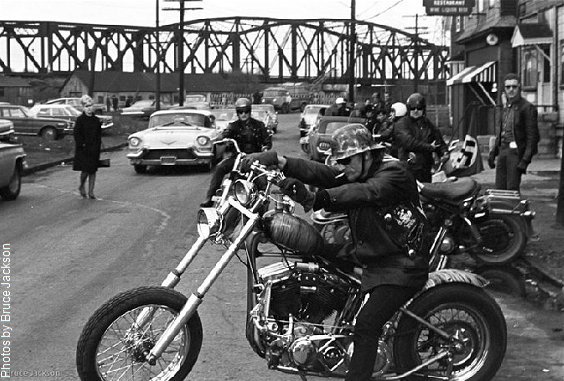 ---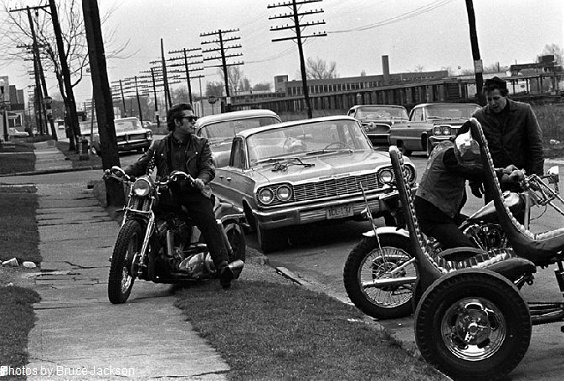 ---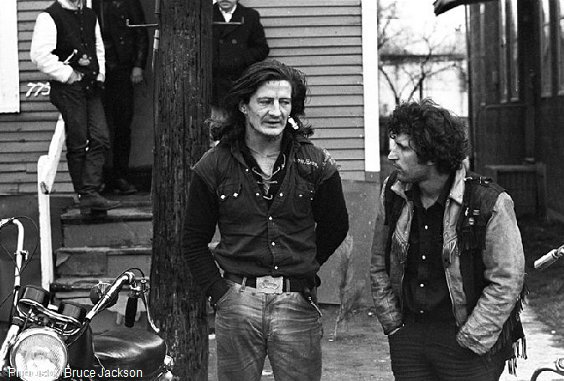 ---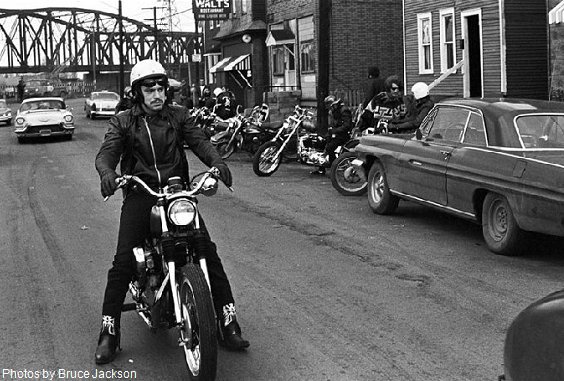 ---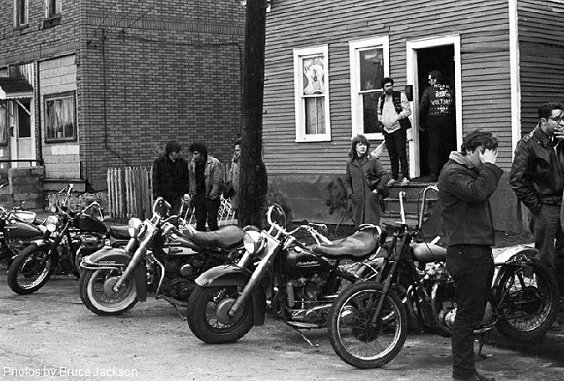 To Go To Bruce Jackson Photography Click Here
---
---

04/00/1963

42 Stitches After Fight

LOCKPORT April 1963—Sheriffs Deputy Gene Palazzo was called to DeGraff Memorial Hospital, North Tonawanda, at 1:30 this morning when two "Road Vultures" refused to tell hospital authorities how they had suffered severe face cuts.

Deputy Palazzo reported David Paddock of 164 Jewett Ave. Buffalo required 46 stitches in his face.

A companion, James Beck of 621Grant St., Buffalo, received 10 stitches.

According to the report, Beck told Deputy Palazzo he was hit with an unknown object while he was getting on his motorcycle in front of the El Rancho Restaurant, Niagara Falls Blvd.

The deputy said Paddock refused to say how he had suffered the cuts but two girl companions said Paddock had been hit with a bottle.

The pair, referred to on the sheriff's report as members of the "Road Vultures" motor, cycle club, were both released after treatment.
---

---

04/00/1964

Youths Attacked by"Black Jacketed Men"

TOWN OF LOCKPORT April 1964—Six Barker youths told sheriff's deputies Thursday night they were attacked by a group of "black jacketed men" while watching a movie at the Lockport Drive-in.

Sheriffs Deputy John Corioa and Lockport Patrolman Gerald Tremblay conducted a search of taverns and restaurants in Lockport but were unable to find anyone fitting description of the attackers.

One youth, told deputies one of the gang hit him in the face giving him a nose bleed and a cut above his nose.

The gang also broke beer bottles in his car, the report said.

Deputy Corica was called to the drive-in, located in Rochester Road, about 10:40 p.m. by the manager who reported a disturbance. However, the black jacketed group had left before the deputy arrived.

The youths told Deputy Corica the gang called themselves "the road vultures."
---

12/

13/1965

10 Men, Girl Are Nabbed In Dope Raid

Buffalo December 13 1965 (AP) —Ten men, described- as members of a motorcycle gang, and a teen age girl have been arrested in a narcotics raid on a suburban farmhouse, whose walls were covered with a swastika and a picture of Hitler, police said.

The raid was conducted yesterday by Amherst police and Federal Bureau of Narcotics agents at the farmhouse in the suburban town of Amherst. Police had been watching the place for a month.

The men, who ranged in age from 21 to 26, and the girl, who was 18, were charged with possession of marijuana. One of the men also was charged with attempting to induce the girl to take narcotics.

Police said the place was rented by the Road Vultures cycle club. They also said they discovered a quantity of marijuana in the house.

Police also found a swastika, a picture of Hitler and statements painted on the wall, including "Down with Johnson" and. "Kill the Cops."
---

---

05/0

7/1966

'Gang Leader' Sues City, 3 Policemen

BUFFALO May 7, 1966 (UPI)—The ground work was laid Friday for the filing of a $100,000 law-suit against the city and three of its police officers by the 24-year-old alleged ringleader of the "Road Vultures" motorcycle gang.

John F. Schnell filed a "notice of claim" through his attorney Friday, charging' he was assaulted, illegally imprisoned and falsely arrested by the three officers.

4 Charges Pending

The action came one week after a-city court jury acquitted Schnell of a charge of preventing an officer from doing his duty. It was one of five charges lodged against him following a disturbance at a lounge Feb. 6.

Four others, including resisting arrest and disorderly conduct, are pending.

The notice of claim, according to Atty. John M. Daly, was filed as required by law within 90 days of the alleged incident.

The actual beginning of court proceedings, he said, can be brought anytime within the next year.

Claims Assault In the action, Schnell asserted he suffered lacerations, contusions, a possible fractured skull and "an extreme loss of blood" as a result of his arrest and assault in the lounge and in a police car enroute to jail.

Schnell was indicted Thursday by an Erie County jury on a charge of selling marijuana.

The charge stemmed from a raid on the gang's farmhouse headquarters in suburban Amherst by federal narcotics agents and local police last Dec. 12.
---

06/07/1966

---

06/14/1966

Judge Tags Defendants As 'Slobs'

BUFFALO June 14, 1966 (UPI)-Eight alleged members of the notorious Road Vultures motorcycle gang were to go on trial in City Court today after a city judge disqualified himself Monday for calling the defendants "slobs."

Judge William J. Ostrowski made the remark to defense attorney Vincent E. Doyle as the trial was' slated to get under way.

"Is there any reason why your clients show in court dressed like slobs?" he asked. "This is no circus," he added.

Many of the eight men' wore open shirts or sweaters and were unshaven. Many wore hair over their foreheads and locks down the backs of their necks.

Doyle then moved that the judge should disqualify himself from the non-jury trial because of the remarks.

Ostrowski granted the motion and ordered all. eight to return to court to stand trial before another city judge.

Police have identified all the defendants as members of the Road Vultures, a group of men ranging in age from their early 20s to early 30s. Members of the gang have been arrested several times in the past on charges ranging- from possessing marijuana to grand larceny and to procuring women for immoral purposes.

Four of the eight presently on trial are accused of being drunk. Two others face charges of being drunk and creating a disturbance, and the two remaining are accused of attempting to prevent a policeman from performing his duty.

The last charge was filed, police said when two of the group identified as Charles Pfohl, 21, and Joseph Rohndpoint, 30, threatened to shoot the arresting police officers following their arrest March 6.
---

07/11/1966

Motorcycle Gang Halted At Border

NIAGARA FALLS, Ont. July 11, 1966 (UPI)—Thirty-eight members of the Road Vultures motorcycle gang from the Buffalo area were prevented from" entering Canada over the weekend when they attempted to cross the border at Fort Erie and Niagara Falls.

Authorities ordered 24 of the riders deported as "undesirables" after they crossed Peace Bridge at Fort Erie.

Another 14 cyclists, wearing black leather jackets and trousers and western boots, were denied entry at Rainbow Bridge here. Police said they were "badly in need of a bath."
---

---

09/03/1966

14 Members Of Gang Held In Row Here

Niagara Falls Sept 3 1966 - Fourteen persons claiming to be members of the Buffalo-based "Road Vultures" gang were arrested shortly after midnight today and charged with disorderly conduct following an altercation in the Strand Lounge, 209 Main St. Niagara Falls.

The group will appear in City Court Tuesday morning for arraignment.

The three girls in the group and two of the males are free on $200 bond each for the males and $50 each for the girls.

The remaining nine arrested early today were in the jail at the Public Safety Building.

The black leather jackets worn by each of them were confiscated by police.

Police said the group came to Niagara Falls from Buffalo in three cars. They had been

in the city about two hours when they were arrested, according to police reports.
---
---
---
4 Being Arraigned In Robbery-Slaying
01/31/1967

BUFFALO January 31, 1967—Four suspects captured last week in Oakland, Calif., in connection with the robbery-slaying of a Buffalo jewelry salesman on Dec. 20, were scheduled for arraignment today in City Court.

Ronald Babchak, 26, of Buffalo, has been charged with first-degree murder. Martin Geary, 20, also of Buffalo, who was apprehended previously, has been arraigned and awaits grand jury action on a murder charge.

Also to be arraigned today are Chester Michalek, 26, and his wife Sally, 21, who gave a

Jackson Street address in Lockport as their most recent place of residence, and William Hessler, 24, of Hamburg.

The Michaleks and Hessler were arrested by – Oakland police on warrants charging them as accessories and claiming that they drove Babchak to Oakland from Buffalo on Jan. 5. The Michaleks have said that they are former residents of Oakland.

Payne was found beaten to death in an alley off Chippawa Street here on Dec. 20. The attack was reported to have occurred shortly after he was seen in a tavern flashing large amounts of money and police have asserted robbery was the motive.

Hessler previously was the leader of the Road Vultures, according to police files, and all other suspects are alleged to have been associated with that motorcycle gang. Michalek, however, told police he had known Babchak only for a little more than a month and that he did not know he was a murder suspect when he drove him to Oakland.
---
---
---
Reputed Road Vulture, Shot by Policeman, Suffers Fatal Head Wound
| | |
| --- | --- |
| 10/28/1967 | Cheektowaga, Oct. 28, Charles Pfohl, 23, of Buffalo, a reputed member of the Road Vultures, suffered a fatal head wound when shot by a policeman in suburban Cheektowaga during an attempted arrest for a traffic, violation. |
---
---
---
11/10/1967

Head of

Road Vultures

Shot to Death

11/10/1967

Head of Road Vultures Motorcycle Club Shot to Death, 2 Wounded in Apartment Raid

BUFFALO, N.Y. November 10, 1967 (AP) - A man who police said shot three intruders. during an attack on his brother was charged today with manslaughter hours after one of them died.

Thomas G. Bell, 24, head of the Buffalo-based Road Vultures Motorcycle Club, was wounded

fatally Thursday night by Walter Edin, 29, in the apartment of Edin's brother, Jack, 21; at 173 Dewitt St., as

Jack's wife and two young children looked on, police said.

They said Bell and two club members, Thomas P. Murray, 20, and Gary- Sheriff, 23, had

forced their way into the apartment reportedly to retrieve an inexpensive watch in Jack Edin's possession. Murray and Sheriff were wounded in the legs.

Police charged Walter Edin with first-degree assault and illegal possession of a dangerous weapon, in addition to first degree manslaughter. They said he had wrested the pistol from

Sheriff during a scuffle. "We had to file those charges" against Walter Edin, a police spokesman told a reporter, because a man was killed and other factors.

He said the charges did not stem from the controversial new state penal law that defines the right of police and

other people to use deadly force.

Asst. Det. Chief Anthony R. Burvid, who led the investigation, gave this story:

Bell, Murray and Sheriff, without first knocking entered the West Side apartment of Jack Edin, 21, who was believed to have the watch in his possession.

Bell immediately grabbed Edin, punched him in the face and knocked him to the floor, where he continued to pummel him with his fists.

Sheriff, meanwhile, flashed a .32 caliber automatic pistol to keep Edin's visitor, Kenneth

Perry, 28, of Walden, N.Y., at a safe distance.

As Sheriff lifted a leg to kick Edin, the man's brother Walter Edin, 29, grabbed the weapon

and fired the fatal shot at Bell, who apparently still was on the floor.

Sheriff and Murray advanced toward Walter Edin, who first warned them to stay back, then squeezed off two more shots.

Detectives said they could not say why the wrist watch, which was missing its strap, was the motive for the beating or how Jack Edin acquired it.

Sheriff, of Buffalo, and Murray, of suburban West Seneca, were taken to the hospital, and

Murray was later jailed. Both were charged with first-degree assault and first-degree burglary.

In addition, Sheriff was charged with illegal possession of a dangerous weapon.

The Edin brothers and Perry were described as structural steel workers. Jack Edin's wife

and two young children also were in the apartment during the incident, police said.

The death of the bearded Bell was the second of a Road Vultures member in less than two

weeks.

On Oct. 28, Charles Pfohl, 23, of Buffalo, a reputed member of the band, suffered a fatal head wound when shot by a policeman in suburban Cheektowaga during an attempted arrest for a traffic, violation.

The Buffalo-based motorcycle band was formed in 1955 and was patterned somewhat after the Hell's' Angels of Northern California, police said.

Persons linked by authorities to the Road Vultures have been arrested numerous times on a

variety of charges.

Bell and Murray were among a group seized in a police narcotics raid at the band's headquarters last Sept. 6. They were awaiting trial.
---
Spain Rodriguez (left) rides with the Road Vultures Motorcycle Club at 1967 funeral of club president Tommy Bell. (Photo by Bruce Jackson)
11/14/1967

40 Cycles Roar Out

BUFFALO, N.Y. (AP) - The

slain president of the Road Vultures

Motorcycle Club went to

his grave Monday, the hearse

carrying his casket escorted by

40 roaring cycles.

Thomas G. Bell, a bearded,

24-year-old shipping clerk, was

laid to rest in Buffalo's Forest

Lawn Cemetery after a funeral

service in which leather jacketed

cyclists mingled with

persons in conventional dress.

Members of the Buffalo-based Road Vultures were joined in

the crowd by representatives i

from motorcycle bands elsewhere

in Western New York and

Massachusetts, Ohio, Connecticut

and Ontario, Canada.

Bell's funeral cortege was led

by a motorcycle-bearing a red

flag emblazoned with a Nazi

swastika. Next in line was a

small flat-bed trailer carrying

his flower-bedecked cycle.

Before Bell's casket was

sealed, someone placed sunglasses

on his eyes and a Road

Vultures sweatshirt on his chest,

atop his blue suit and white

shirt.

At the cemetery, a club member

stepped forward and poured

the contents of a pint whiskey

bottle on the metal casket, then

tried to smash the bottle against

the coffin lid, but without

success.

A mimeographed eulogy distributed

at the cemetery said

Bell "was born to be free and

died to be free."

Several plainclothes policemen

stood by during the service.

Also in the gathering were Bell's

wife, Regina, and their 2-yearold

son, Shane.

Bell was shot fatally last

Thursday night after, police

said, he and two other Road Vultures

stormed into the apartment

here of Jack Edin, to retrieve

an inexpensive watch.

In the ensuing fracas, detectives

said, Bell was shot in the

back with a pistol by Edin's

brother, Walter, 29. The other

two motorcyclists suffered leg

wounds.
---
01/06/1968

Slain Man's

Family Seeks $1 Million

BUFFALO, N.Y. Jan 6, 1968 (AP) - The

wife, infant son and father of a

motorcycle club member slain

by a suburban policeman during

an attempted arrest have filed

$1 million damage suit

against the officer and three

municipalities.

The relatives of the late

Charles A. Pfohl, 23, of Buffalo

entered the claim Friday

against a Patrolman of the Cheektowaga Police

Department, the town of

Cheektowaga, the Village of

Sloan and the City of Buffalo.

Pfohl, a member of the Buffalo based Road Vultures Motorcycle

Club, suffered a fatal head

wound last Oct. 28 when a Patrolman service revolver discharged

as the two scuffled in

Cheektowaga, police said.

The policeman, who also is a

professional heavyweight boxer,

had chased Pfohl after the

young, man fled from an automobile

pursued for a traffic violation,

they said.

Plaintiffs in the. case, charging

negligence and wrongful

death, are Pfohl's widow,

Margaret;

son, Charles Jr.; and

father, Richard.

Buffalo's corporation counsel,

Anthony Manguso, said he was

puzzled why the city was named

in the suit, since city police

were not involved. Sloan is in

the town of Cheektowaga and

the Cheektowaga Patrolman's partner was a village

patrolman.

The policeman was suspended

from duty while a grand jury

investigated the incident but

was reinstated with full back

pay when the panel cleared him

of any criminal liability.
---
---

01/30/1968

Area Man

Is clared,

In Slaying

BUFFALO, N.Y. January 30,1968 (AP) - An

Erie County Grand Jury has

cleared a 29-year-old ironworker

of a manslaughter charge in

the shooting of the president of

the Road Vultures Motorcycle

Club but has ordered him to

stand trial on a weapons count.

The Jury's decision was reached

Monday when Walter

Edin of Buffalo was arraigned

in Erie County Court on an

indictment charging illegal possession

of a dangerous weapon.

A no-bill was returned on a

first-degree manslaughter

charge brought by police.

Edin was arrested after

Thomas G. Bell, 24, of Buffalo

was killed by a pistol bullet

during a fracas at the home

here of Edin's brother, Jack, 21,

police said.

Bell and another motorcyclist,

Thomas P. Murray, 20, of West

Seneca, went to the apartment

to retrieve an inexpensive

watch.
---
04/02/1968

5 in Motorcycle Club Are Put

On Bail on Car Theft Charge

Niagara Falls, April 2, 1968, Five members of the Road

Vultures Motorcycle Club, one

of them a Niagara Falls resident,

were placed on bail when

they appeared before Acting

City Court Judge Nunzio Rizzo

in Criminal Court Monday in

connection with the theft of a

car from Minneapolis.

Three of those charged were

bailed and the other two were

being held in Niagara County

Jail pending arrangement. of

bail. They are:

Elker Katz, 19, of 445 Seventh

St., this city, charged with

grand larceny and held in Lockport pending arrangement of

$5,000 cash or $10,000 property

bail.

Helen Leeburg, .20, of 432

School Road, Lowell, Mass.,

charged with grand larceny, no

operator's license and not having

proper plates on a motor

vehicle, held in Lockport pending

arrangement of $2,000 cash

or $4,000 property bail.

Russell G. Samrany, 22, of E.

Delavan Ave., Buffalo, charged

with grand larceny, released on

bail of $3,000 cash of $6,000 property.

James T. Roach, 25, of 156

Como Ave., Buffalo, charged

with grand larceny, released on

$3,000 cash or $6,000 property

bail.

Margie Pfohl, 20, of 419 Fargo

St., Buffalo, charged with grand

larceny and released on bail of

$2,000 cash or $4,000 property.

Their cases were adjourned to

April 22 by Judge Rizzo.

The five. were arrested in

Main Street at 1:30 a.m. Sunday

following an investigation by the

police Tactical Unit into a fight

at the Strand Lounge.

A check of the car in which

the five were occupants revealed

a set of Minnesota license

plates on the rear seat and subsequent check of the plates

revealed the car was stolen in

Minneapolis Thursday.

Police

said the Leeburg woman had

a key chain in her possession

which contained at least 20 master

keys for various makes of

cars
---
12/04/1968

Drop Drug Charges

BUFFALO, NY. DECEMBER 4, 196

8 (AP) -

A City Court, judge Tuesday

dismissed marijuanna possession charges against seven

women and five men arrested

last Dec. 23 in a predawn raid

on the Road Vultures Motor

cycle Club headquarters.

Judge Sebastian J. Bellomo

dismissed the charges when both the defense attorney and an assistant district attorney agreed that a search warrant used in the raid did not comply with standard procedure and that alleged evidence had been suppressed by court order.
---
01/07/1969

Federal Grand Jury Indicted 3 in $500,000 Metal Theft

Buffalo

NY, January 7, 1969

A Federal Grand Jury has indicted three men on charges of possessing 12 tons of stolen nickel

powder valued at $500,000.

The indictments were handed

up Monday to Judge John T.

Curtin of U.S. District Court.

William E. McKnight, 25,

James T. Roach, 25, and David

A. Urban, 19, all of Buffalo, described

by police as members

of the Road Vultures motorcycle

club, were charged with possession

of the metal, which was

stored in 32 drums.

Police said the metal was

stolen Dec. 20 by thieves who

used a flatbed truck to haul the

drums away.

All three men were continued

free in $5,000 bond each.
---
06/00/1969

Man Draws

2-Year Term

BUFFALO, N.Y. June 1969— Gary

Sheriff, 25, of Buffalo, has been

sentenced to serve two years in

the Erie County Penitentiary

after his conviction on charges

stemming from a fight in which

a man was fatally shot.

Justice Charles J. Caughan

sentenced Sheriff Friday.

Sheriff was involved in a fight

in which Thomas G. Bell, 24,

president of the Road Vultures

Motorcycle Club, was shot.

Police said Bell, Sheriff and

Thomas Murray, of West Seneca,

forced their way into the

apartment of Jack Eden in Buffalo

during November of 1967.

During an ensuing fight Bell

was shot.

Sheriff was convicted of third degree

assault and first-degree

criminal trespass.
---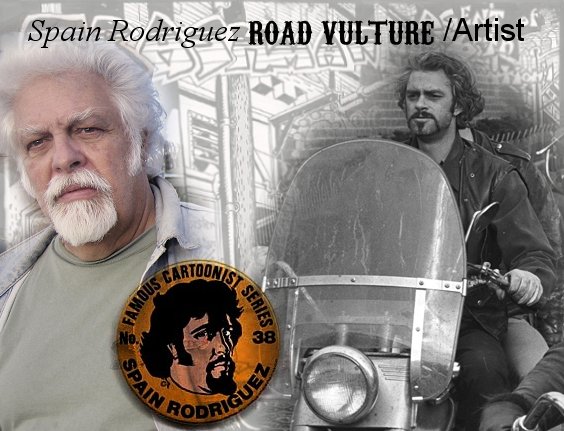 1960's

Sample of

Spain

Rodriguez

Work

For Larger Image Click Here
---
Reference Sources
http://www.buffalo.edu/ubreporter/2009_10_14/rodriguez_comix
http://artvoice.com/issues/v8n42/road_vultures_and_rumbles#SlideFrame_0
http://en.wikipedia.org/wiki/Spain_Rodriguez
http://www.revelinnewyork.com/videos/spain-rodriguez
http://roadvulturesmc.com/
http://www.buffalo.edu/news/10548
http://brucejacksonphotography.us/

1800's

1910's

1920's

1930's

1940's

1950's

1960's

1970's

1980's

1990's

2000's

2010's
POLICE OFFICERS
Chief Executives
On the Job
Police Officers
History of Police Woman
History of Black Officers
Meet Detective Sergeant Coyle
Meet Detective Sergeant Burns
Meet Patrolman Nicholas Donahue
Buffalo Housing 1980's
Precinct 16
Days Gone By
Underwater Recovery Team
Homicide Cold Case Squad
CSI Crime Scene Investigation
S.W.A.T.
Mobile Response Unit
K-9 Corps
Communications Division
Motorcycle Squad
Mounted Division
Band and Drill Team
Cartography Unit
Pawnshop Squad
Printing Department
Identification Bureau
History Overview
Police Precincts
Mutual Aid
World War II
Desert Storm
Detectives 1980
The Blue Ribbon Gang
The Mystery Perfume Case
The Felons Fang
Contract For A Hit
An Eye For Murder
The Boarder Bandits
Detective William Burns
Birth Of Witness Protection
Murder Gangland Style
Callea Brothers Murder
How America Meets The Mob
Anti-Gambling Crusader Murdered